A HOTELIER'S LIFE
by

---
Roland G. Svensson has gone from running around the lobby of Bangkok's Montien hotel as a child to actually running the hotel as its GM today. Born in Stockholm, he moved to Bangkok when he was 14 as his dad, Kjell, an area director with SAS was posted here to look after the Asia-Pacific region for his airline.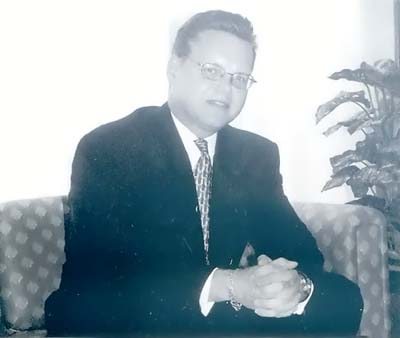 The family lived here for almost a decade, and Roland spent a bit of time traveling around with his father on business trips. As the airline and hotel industry are so closely linked a lot of Kjell's friends were hotel general managers so Roland got close to these people and had the opportunity to stay in many of Asia's most famous hotels. He immediately fell in love with hotels, and decided very early on that he wanted to be ahotelier. And his life is actully a textbook case of how to succeed as a hotelier.
In June of 1983 when he graduated from high school in Sweden he came back here to Bangkok when a good friend of the family, Brian Deeson, who was the GM at the Hyatt Central Plaza Bangkok offered him job as a Management Trainee at his hotel. Roland was trained in most of the departments of the hotel including the front office, the kitchen, the restaurants, banquets, in sales and in marketing and finance. He also worked for three months as a coordinator for the PATA Travel Mart which was held in the hotel that year.
Then he went back to school attending the Ealing College of Higher Education, in London, England, from 1984 to 1986 earning a TEC High Diploma in Hotel and Catering Management, though he continued to spend his summers working at the Hyatt.
After graduating from Earling he took a job as Banquet Service Manager at the Hyatt Regency Dubai, in the United Arab Emirates from May 86 to May 88 where his responsibilties included being in charge of the entire banquet operation including planning functions with clients, supervising setups and service, training, and creating concepts. He was also selected by Hyatt International to be part of a worldwide team to develop innovative and creative banqueting concepts for the entire group.
Roland was then transferred to the Hyatt Regency Macau where he became the Assistant Director of Food & Beverage from May 1988 to January 1989 and was in charge of the daily F&B operation of a 275 rooms five star resort with seven restaurants and bars as well as excellent convention and meeting facilities.
His next stop was Downunder from January 1989 to January 1990 as the Director of Food & Beverage for the opening of the Radisson Royal Palms in Port Douglas, Australia. This is a 5 star resort with 315 rooms. Its outlets include on all-day dining cafe, BBQ Restaurant, Pool Bar, Lobby Lounge and two function rooms. He was responsible for all conceptual aspects of the F&B operation as well as the formulation of the operating philosophy. The resort was also the first Radisson Hotel to open in Australia.
But Roland yearned to return to Asia and he did so as the Assistant Director of Food & Beverage for the Shangri-La here in Bangkok from January 1990 to February 1991. This five star hotel has 700 rooms with 11 restaurants and bars as well as a grand ballroom and seven function rooms. Roland was in charge of the hotel's day-to-day F&B operation with special emphasis on banquets and conventions. It was one of the largest F&B operations in the Shangri-La Group.
While at the Shangri-la he helped established the hotel as one of the leading incentive and convention hotel in Asia Pacific. The hotel was awarded several International Awards as an outstanding incentive hotel.
From February 1991 to May 1992, he was then transferred south to be the Director of Food & Beverage at the Shangri-Laís Golden Sands Penang, Malaysia. This is a 295 rooms beach resort of 4+ star standard with a seven restaurants & bars and four function rooms. He was responsibile for the Resort's F&B operation during the period when the hotel converted itís continental restaurant into a traditional Italian Restaurant and the basement into a Fun Pub. These quickly became very popular outlets in the local market and were bestowed with awards from Malaysia Tourism Authority in 1992 and 93 respectively.
Then from May 1992 to April 1993 he moved onto something altogether different as the Director of Food & Beverage for the Aberdeen Marina Club in Hong Kong, which was managed by Shangri-La International. It is one of the most exclusive and complete luxury membership clubs in Asia. The F&B operation includes six restaurants and bars, a grand ballroom and four function rooms as well as a busy outside catering operation.
He was responsible for coordinating and overlooking the renovation of the entire food & beverage operation and introducing the Shangri-La Internationalís new F&B standards & procedures. He also renovated two outlets and the grand ballroom during his tenure and he achieved a profit increase of 14% over the previous year. He had a great experience and met all the movers and shakers in Hong Kong society, yet he missed the hotel business, his first love.
So then Reggie Shiu of the Accor Asia-Pacific Group contacted him to see if he would be interested in returning to his adopted home of Bangkok as the Resident Manager for the opening of the Novotel Lotus, a 224 room four star business hotel consisting of five restaurants and bars, a deli, grand ballroom, a health club with outside catering services.
Keen to understand the workings of a four star hotel he accepted and from April 1993 to August 1994 was responsible for the planning and implementation of all operational policies, procedures and activities during the pre and post opening of the second Novotel property in Bangkok. He introduced a high standard of service to the hotel, and played a large role in making sure it opened on schedule and that there was a low staff turnover.
Reggie Shiu then asked him to take his first posting as General Manager for the opening of the Novotel Mandalay in Myanmar. So from August 1994 to May 1996 he ran this 206 room four star + business hotel consisting of executive floors and a business center, five restaurants and bars, four function rooms, a nightclub and health club.
This was quite a remarkable achievement actually for he was responsible for opening the first truly international hotel in Myanmar, which set the foundation for Accor Asia Pacific's development in that country. He was also in charge of the development of the 300 room five star Sofitel Yangon. The job including establishing and consolidating pre-opening offices in Bangkok, Yangon and Mandalay. He successfully opened the Hotel on time in December 95 despite extremely difficult conditions. And the Novotel Mandalay also became a model for many other international hotels which later opened in Myanmar.
Tired of living out of a suitcase, he returned to Thailand and took his second posting as GM with the Royal Garden Resort in Hua Hin (later renamed the Hua Hin Marriott Resort & Spa) from May 1996 to November 1997. This four star resort has 220 rooms, seven restaurants and bars, four function rooms, full recreation facilities and a large swimming pool. Roland was actually in charge of the renovation of the guest rooms and the entire swimming pool area, and also introduced new creative food & beverage concepts. In addition to his responsibilities as GM, he was the project coordinator for the Minor Group's two new projects in Haiphong, Vietnam, and in Siem Rep, Cambodia, which later became a Sofitel.
In 1997, deciding he wanted to spend more time with his family and that he wasn't really a resort type of guy, he moved back to Bangkok and took the position of GM at the Montien Bangkok, a well established four star hotel located on Suriwong Road directly across from Patpong. The hotel has 475 rooms, six restaurants and bars, a grand ballroom and five function rooms, a fitness center, swimming pool and a shopping plaza.
It was quite a homecoming for Roland as he remembers it being one of top three properties in town: the others being the Oriental and the Dusit Thani. You see he used to run around the Montien's lobby as a kid, it was his father's favorite hotel staking its reputation as an airline executive hotel as many airline offices were located nearby. (Today, it still has a strong name within the travel industry and a lot of airline executives and hoteliers continue to call it their home in Bangkok.).
So today, Roland has full responsibility for the 35 year old hotel Montien. His main responsibility is to bring back awareness of the hotel both in the domestic and overseas markets. And he's done a good job of that as the Montien was voted the best hotel in Asia out of 80 hotels by the Scandinavian Leisure Group, the largest leisure operator in Scandinavia, with a 97% customer approval rating.
Interestingly, Rolandís brothers have followed him into the hotel business. Krister, 37, is the number two at the Shangri-la Makati and Mikael, 31, is the Executive Assistant Manager at the Grand Hyatt Mumbai, which with 700 rooms and 25 restaurants will be one of their largest property in the Asia-Pacific region.
Commenting on life as a GM, Roland says, ďItís not a job, itís a lifestyle and you must accept it as that. Itís a little like being the mayor of a city because youíre in charge of everything from finance to housekeeping, to F & B, sales and marketing and engineering. When you manage a hotel on a day-to-day basis you must make sure everything works, all the time. Itís a 24-hour, 365-day job because the hotel never closes, it never shuts down and you have to keep a lot of people happy. Thatís what itís all about keeping guests happy and satisfied so they will come back again.Ē
ďA lot of GMs like myself live in the hotels in which we work, I have my apartment on the top floor, so even when I get off work I am still within the premises of the hotel. It looks like a very glamorous job but we do work long hours Ė 12 Ė15 hours a day, and thereís a lot of entertaining involved in the hotel industry especially here in Asia.
ďSometimes you must behave like an actor; when you are behind the scenes you might be upset or in a bad mood, but once you step on stage you have to forget all that, and I tell that to my staff as well. Itís tough to forget all your personal problems, but you must do it. Young GMs can be very tough and like bulls in a china shop but over time they learn more technique and tact.Ē
Which hoteliers have inspired him the most and why? ďBrian Deeson, definitely. He is one of the top five hoteliers in the Asia-Pacific region. He was GM of the Hyatt Regency in Sydney when he was 26, and he became VP of the Hyatt chain when he was 29. He has always been like a father figure and very helpful to me. We still have a close relationship and heís very close to my family, and we get together every time he comes through Bangkok. Heís very successful but he still has both feet on the ground, heís very simple, and he does not flaunt his wealth or status in any way, and thatís what I have tried to copy from him.
ďAlso, like almost very hotelier in Bangkok, I admire Kurt Wachtveitl and the way he manages his hotel and treats his staff. He manages the Oriental in an old time way, and thatís the way I try to manage this hotel. I havenít written a report to my Board of Directors in the last five years. Itís more important to me, and to my Board, that I spend my time concentrating on the guests, the day-to-day operation and the hands on management of the hotel than spending a lot of time on administrative reports.
ďUnfortunately, this is something that a lot of the big chains, the Hyatts, Sheratons and Shangri-laís have to do but as a result the GM and other senior management spend more time dealing with reports than they do with their guests or their staff. Every time my brothers call me itís seems as though they are in the process of filling out one report or another.
How has he tried to reenergize his hotel? ďWhen I first took the job at the Montien I viewed it as a sleeping giant, a good solid hotel with a great location, which had become a forgotten property. The hotel was stagnating but luckily our Director of Marketing, Khun Nusara Phoneprasert, who arrived a year before me, started to put it back on the map by attending all the trade shows, and putting together an aggressive sales and marketing team. So for the first two years I was here, we concentrated on the leisure market, and worked together focusing our attention on sales and marketing.
ďThe name was always there, but it had become forgotten so we had to remind people that we were still here, and that we were are truly a Thai hotel that is family run, reasonably priced and in a great location. With a bit of luck we were able to attract the attention of wholesalers in Europe, Australia, Hong Kong and Singapore and our occupancy rates started to rise. Once this happened, we started to concentrate on the corporate market, and luckily we already had a strong Japanese corporate clientele to rely on. So very quickly we turned the corner and today are one of the best four star hotels in Bangkok.Ē
Thai-Swedish Chamber of Commerce
Roland was elected temporary president of the Chamber last December, replacing Jan Avall, who had to return to Sweden. Then at this yearís AGM in March he was hooked into the job full time. He had been a board member for three years previously and had been in charge of the program committee so he was a natural choice for the role given his knowledge of the country and the way business is conducted here.
The first thing he did before taking the position was talk to his Chairman about it and he said that as long as Roland didnít compromise his job as GM of the Montien, he should take it as it could benefit the hotel as well. Roland figured that he would have to allocate 10-15% of his time for Chamber activities, and thatís what he has done.
The job includes a lot of socializing, but some very serious work as well. Besides answering to the Board of the Swedish Chamber he is also on the Board of Trade, and on the Board of the Presidentís Council of the Joint Foreign Chambers of Commerce, both which meet once a month, the latter recently concluding a very productive meeting with Prime Minister Thaksin.
Roland has tried to play an active role in taking the Chamber forward, and making it more functional by launching a website and revamping the Chamber magazine, Step. The Swedish, Norwegian and Danish Chambers all share the same Executive Office, run by Executive Director, John Svengren, who is Swedish by the way.
Roland wants to make the Executive Office more user friendly for any Swedish companies thinking of doing business in Thailand. To that end, the three presidents of the Scandinavian Chambers meet once a month, have dinner and discuss how they work together to take the Executive Office and their respective Chambers forward.
He says the main benefit of the Chamber is the networking opportunities it offers through its monthly get togethers, which are sponsored by Chamber members. Itís really a club for business executives to meet and exchange information. And as the Chamber works very closely with the Thai government it gets updates on topical issues like work permits, the foreign business law, transfer pricing and customs duties and can best advise its members on these matters.
Contact Info
Montien:
Tel: 02-233-7060-6
Fax: 02-236-5218-9
Website: www.montien.com
E-mail: gmbkk@montien.bkk

Thai-Swedish Chamber
Tel: 02-661-7761-3
Fax: 02-661-7764
Website: www.swecham.or.th
E-mail: gmbkk@montien.com
---
FINIS