THE BANYAN TREE SMOTHERS YOU IN COMFORT
by

---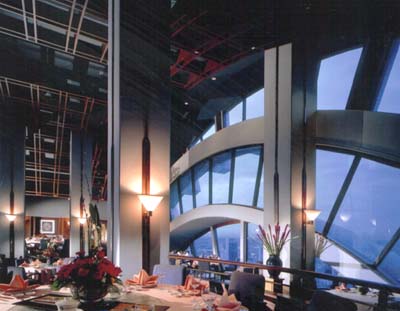 What makes the Banyan Tree resorts unique is that they are their own owner, operator and developer. But when the Banyan Tree Bangkok opened in 1996, it was the group's first city hotel and management felt it did not yet have enough experience to run such a property. So it co-branded the hotel with the Westin Group and signed a management contract with them to run the hotel for five years. Then at the beginning of last year, the Banyan Tree assumed managerial responsibilities of the property.
"All 216 of our rooms are suites with the smallest starting at 50 square meters," says General Manager Bernold Schroeder in describing his hotel. "We bring a lot of resort elements to our city hotels. For example, in the bathroom, nothing's packed, there are no packed soaps, no packed shampoos, there are ceramic containers that are refilled on a daily basis. We only have king-size beds because the Banyan Tree brand is known for having very romantic couple oriented products.
"During our evening turndown service we light an aromatherapy burner with essential oils and an incense stick in all our rooms, as well as in the lobby and the restaurants, so our guests will always find a pleasurable smell in the hotel." Ellen Ettersberger probably put it best writing in Under the Banyan Tree, "Fragrant aromas emanating from candles scented with soothing essential oils permeate the air." And every day the aroma of the oil burner and incense sticks is changed. One day the essential oil may be cedarwood, the next day, citronella. One day, the incense might be rose, the next day, coconut."
Schroeder continues, "Similar to a resort, we also have a 'Daily Activity Calendar' where we forecast the weather and suggest 3-hour activities our guests can do in Bangkok like visiting the Grand Palace. We also suggest a dining option at one of our F&B outlets and a recreation option like playing golf or taking a spa treatment."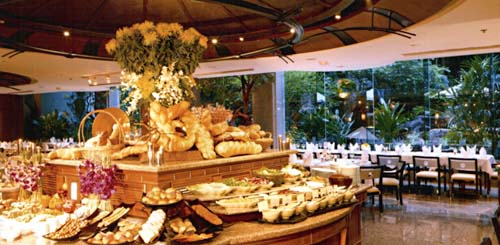 Talk about adventure dining: Vertigo is the city's most exciting dining experience - just pray for clear skies. Located outside, on the top of the hotel (it used to be a helipad) and open from 6.30-10.30 p.m. every night it is 'so worth going,' but you really must reserve because it is booked solid almost every night. The Champagne Bar overlooks Vertigo and the combination is the highest al fresco grill and bar in the world. The bar opens earlier and closes later (5pm-1am) and is just an unbelievable spot to oversee the concrete chaos that is Bangkok. As it advertises it's "a perfect place for an intimate evening, festive party or evening with friends." And you really can't impress a loved one more than by taking them out for dinner at Vertigo. Sensual, romantic it will probably soon be one of the most popular spots in town to pop the question.
The hotel has seven other F& B outlets including Bai Yun, its award winning Chinese restaurant, located on the 60th floor, and Saffron, its superb Thai restaurant (formerly the bar Compass Rose) on the 59th. Both eateries also provide exquisite views of the Bangkok skyline, albeit from indoors.
The hotel actually has two spas; the general spa located on the 21st floor, which non-hotel guests can frequent and the Banyan Tree Club Spa, running from the 51st to 54th floor, which only Banyan Tree Club guests can use. The Banyan Tree is known the world over for its spa treatment but what makes it so different from its competitors? "We have 32 spa treatment rooms located on five floors, and most have breathtaking floor to ceiling views of Bangkok," says Schroeder. "Everyone says they have a spa these days, but there are substantial quality differences. I just visited a very nice large hotel in the Middle East, which claimed to have a spa. But it only had four treatment rooms, with no daylight, no shower, a single bed, and it was located in the corner of the corner of the corner of the hotel.
"But every one of our treatments is staffed by a spa therapist; we don't have clinical spas where someone puts you in a piece of equipment like a hydrobath for fifty minutes, charges you sixty dollars and says that was your spa experience. All of our therapists are trained at the Banyan Tree Spa Academy in Phuket, which is certified as an official learning institution by the Thai Ministry of Education. Many spas only hire part-time therapists so you get a different one every day, ours work here all the time.
"Our spas work like restaurants, we have corporate spa trainers who work like corporate executive chefs and continually come up with new spa treatments. We also discourage locker rooms, so all of our spa treatment rooms have their own shower facilities. We sell sessions, so you go into a treatment room directly, have your shower, sit down get a foot bath, have your massage, then you get some herbal tea and vegetables, have another shower, rest for a while and leave. You don't feel rushed, and since the treatment room is private you tend to feel more relaxed. Spas don't have any star classification, so it's hard to discern one from another; one hotel may offer a Swedish massage and call itself a spa."
What else sets the Banyan Tree apart? "Our Chairman, Ho Kwon Ping, or K.P. Ho as he is known, is the inventor of the Banyan Tree product. He invented the pool villa, our core product, and now we are the largest operator of private pool villas in the world where each guest has a villa and their own private swimming pool. His idea was to not build a hotel with a spa but a hotel around a spa. So if you visit the Banyan Tree in Phuket you will see the spa is in the center of the hotel. It dominants your whole experience. He also came up the idea of making our hotel an all suite hotel."
Schroeder sees the Banyan Tree as a boutique hotel, which is something new to Asia: a hotel that offers exceptionally good service couple with beautiful suites, a superb spa and innovative food and beverage.
It's always the little things that set the real good hotels apart from their competitors. And the Banyan Tree takes care of the little things. Example, if you are stressed and have had a hard day what better way to relax than to read and soak in a warm bubbly bath while the incense and aromatherapy oils burn slowly filling the air with fragrant senses.
Or how many times have you stayed in a nice hotel only to find the Jacuzzi lukewarm and the jets of water more like trickles? Not so here, the open air Jacuzzi on the 51st floor percolates with forceful jets of water pumping out you at 40 degrees Celsius.
And how many times have you checked into and executive suite only to find you can only have breakfast from 7-10am and then an evening cocktail from 5-7pm? Not very convenient, is it? At the Banyan Tree Club Lounge, you can get a drink and a snack around the clock, as well being able to browse through a wide range of magazines and you are even given a complimentary ten-minute neck and shoulder massage upon check- in.
But the litmus test for any good hotel is how a guest feels at checkout time. If he or she can't wait to leave, obviously, there experience hasn't been a pleasurable one, but if the guest is lingering and trying to come up with a reason for staying another night, the hotel has done a good job. And that's the way it is with the Banyan Tree; you will be desperately trying to come up with reasons to prolong your stay.
K.P. Ho once said, "We want to elicit an emotional response from our guests by creating a sense of intimacy that they will always treasure." Well, the Banyan Tree has succeeded.
So why not spoil yourself and someone you love by taking the Banyan Tree experience?
GM's BIO
The hotel's GM, Bernold Schroeder, was born just outside of Dusseldorf, and spent three years in a traditional hotel apprenticeship program in Baden Baden, Germany, where he learned all facets of the hotel business. The Far East had always fascinated him, so in 1987 he took a job with the Holiday Inn in Hong Kong, and quickly became the hotel's Assistant Food & Beverage Manager. Then, four years later he moved to New York City to work as the Food and Beverage Manager at the 1400 room Grand Hyatt Hotel in New York City, which at that time was owned by Donald Trump. He spent four years there but the lure of Asia was too strong and in 1995 he returned to Singapore to work at the Club Corporation Asia where he spent two years learning how to run and manage resorts.
In 1997, he joined the Banyan Tree as the GM for their resort in the Maldives and as the Area Manager for the Indian Ocean (the Banyan Tree has two hotels in the Maldives and one in the Seychelles). Then in 1999 he became Vice-President of Development for the Group. In July of 2001, he accepted the post as GM of the Banyan Tree to handle the turnover from the Westin, who had been managing the hotel.
His desire to be a hotelier stems from his first trip to the US in 1984 where as a 16-year-old exchange student he stayed with a host family in Santa Cruz. They took him to many country resorts, which they did not have in Europe at the time. These were huge hotels with 27-hole golf courses, numerous tennis courts and restaurants and big ballrooms. Bernold recalls, "I thought that if I became a GM it would be like running my own little town, I would meet interesting people in a nice environment, and the job would be a nice good mix of administration and hands on people oriented management. So when I returned to Germany from the USA I told my parents I wanted to be a hotelier and they thought I was crazy."
Contact Info
Tel: (66) 02-679-1200
Fax: (66) 02-679-1198
Websites: www.banyontree.com; www.angsana.com
E-mail: info@banyantree.com
---
FINIS