INTERVIEW WITH THE CANADIAN AMBASSADOR
by

---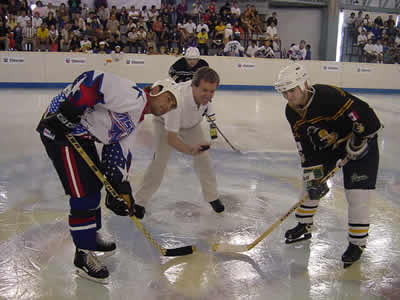 Ambassador McAlister dropping the puck at the Chevron Cup Final
Andrew McAlister never thought he'd end up in the diplomatic service, but we are sure glad that he did, as very early on he's proving to be a very engaged and devoted ambassador. The new Canadian Ambassador to Thailand says, "I had the same misconceptions about the Foreign Service as everyone else; that it was all about formality and protocol, and that it involved a lot of entertaining and socializing. And, while it is true that there is some protocol and socializing, it's all done for a concrete purpose."
Born in Windsor and raised in Toronto, Ontario, Ambassador McAlister had originally planned on being an academic, focusing on either economics or international relations. He received a BA (Political Science and Economics) from York University's Glendon College in 1972, an MA (Political Economy) from the University of Toronto in 1973, and a PhD (International Relations) from the prestigious London School of Economics in 1977. But when it came down to it, he just didn't think he wanted to spend the rest of his life in an ivory tower.
But the problem was he really didn't know what he wanted to do. Until a former diplomat and professor at Glendon College, Dr. John Holmes, suggested he try the Foreign Service. He thought, why not? It didn't cost anything to sit the exam, and he could do it while completing his studies at LSE.
Anyway, we all know what happened – he got the job and started working for the Foreign Service in 1976. The Ambassador recently sat down and talked with Voyageur about his new posting, and how he's finding it.
How has being posted here earlier in your career helped you adapt to life as Ambassador?
"It has helped in a number of ways. Because of my earlier posting, I have some grasp of Thai culture and a great affection for the country. I also have some knowledge of Thai history, which helps me to understand the current political and economic situation. And since I traveled throughout the country when I was the First Secretary and Consul here, I have some understanding of both rural and urban Thailand.
"I also made a number of Thai friends back then, with whom I have kept in touch. They have moved up the ladder and now hold senior positions in both the public and private sectors. These are very good contacts for me to have."
What do you hope to accomplish during your tenure as ambassador?
"I want to update Canada's image. I think that when Thais think of Canada they think of beautiful scenery and friendly people, and I'm glad that they do. But we have so much more to offer, especially in the hi-tech, IT and financial sectors. I don't think Thais necessarily think of us when they are looking to make partnerships abroad, and I want to change that. I want to broaden the Thais' awareness of Canada, so they can better understand our capabilities.
"I also want the Embassy to be accessible to show that we are approachable people, and that we are very interested in developing our relationships with the Thais.
"I want to work hard to promote Canada as a destination for Thai students because again I don't think Canada is necessarily the first country of which Thais think when they are looking for educational opportunities for themselves, or for their children. Part of this is a lack of awareness of what Canada has to offer in the way of high quality education, at a cost, which is very competitive. So I do want to increase the flow of Thai students to Canada.
"I also want to promote Canada as a destination for Thai tourists. I'm an optimist by nature, so I think the Thai economy will rebound, and when it does there will be a significant demand for new and interesting tourist destinations. I think that Thais will find Canada an interesting place to visit, because it has so much to offer."
Where do Thais like to visit in Canada?
"The West Coast – the Rockies, Vancouver and Lake as well as Niagara Falls.
"I've also spoken to an increasing number of Thais who love Montreal and Quebec City, where they can get a taste of old Europe, but with a New World flavor. Many Thais love the French cuisine, the French language, and the beautiful architecture.
"But I think Thais would also be attracted by our wide-open spaces, which we have in abundance. And I think they would get a thrill out of seeing real wilderness."
In the past the Embassy has received some criticism for the way it handles visitors. Now, obviously it's not a hotel or a drop-in center, but would you please comment on your policy towards dealing with enquiries, visa applications and passport renewals?
"We have service standards to which we must try to adhere and we do have discussions regularly about how we serve the public, both Canadians and Thais.
"We will have approximately 130,000 Canadians visit Thailand this year, and our Consular Section is extremely busy dealing with urgent cases such as robberies, serious illnesses, accidents, missing persons, deaths and Canadians who are detained. Obviously, it has to set priorities. They have to deal with the most urgent cases first. That said, I believe that our consular staff does its utmost to provide the maximum consular service to any Canadians who come through the door. I am proud to say that every day, we receive compliments from Canadians for the Consular services we provide.
"With regards to passport issuance, we again have service standards, which I'm proud to say we meet. I think you'll find that our clientele are very satisfied with our passport service, which is fast and efficient. There will always be documentary requirements –Embassy staff cannot change the passport regulations - but if people provide the required documentation, they will receive very prompt passport service.
"We have done a lot of training of our staff, and certainly I put a high priority on service to the public, as the job of the consular section is, indeed, to serve the needs of the Canadian traveling public and the local Canadian community.
"On the visa side, again, we have service standards, which are adhered to. Not every visa applicant will be successful, but by far, the vast majority of Thai visitor visa applicants receive their visas, and they receive them promptly, provided that they submit the documentation required. We don't think the documentation required is overly onerous and there is ample information on our website about what needs to be submitted to support a visitor visa application. If the documentation is in order, we issue visas very quickly.
"We have an excellent Embassy website: www.dfait-maeci.gc.ca/bangkok, which has abundant information about the Embassy, as well as hotlinks to Government of Canada websites across the board. I'm really quite proud of it. If people are looking for information about Canada, looking at the website should be their first move as it's user-friendly, tri-lingual, and there's a substantial amount of information there."
A couple years back, an idea was floated to have a "Canada House," a place where Canadians could meet to discuss business and have social gatherings. Any news on that, or do you think there is any need for it?
"We have, as you know, a very active Thai-Canadian Chamber of Commerce, which is both a business and social organization. It holds functions regularly, and it's composed of a very lively group of people.
"There is also the Canadian Women's Group, which is very active, holds meetings regularly and does a lot of work for charity.
"We have occasional Embassy functions, and of course we strongly support events like the Terry Fox Run, Canada Day, and the Thanksgiving Ball where Canadians can always get together.
"My impression is that Canadians in Bangkok are pretty busy. There is a lot going on in this city and this country, with so many interesting things to do. Sometimes I get the feeling people think their social calendars are overloaded already because of all the things to do here."
You are also the Canadian Ambassador to Laos and Myanmar, any comment on those two nations?

"In Laos, we are engaged, through CIDA, in trying to promote economic development and dealing with the problem of poverty, which is very serious there. I recently gave a reception for the Canadian community in Vientiane, and I was quite surprised to see how many Canadians are there, working in various areas. We have been involved in the effort to clear unexploded ordnance, which litters the country. It is slow, painstaking work, and it's going to take a lot of time, but they have made an excellent start.
"In terms of our relationship with Myanmar, we have continuing concerns about the human rights situation, and we are urging the regime to bring about some concrete progress in reconciliation with the opposition to move forward on democratic development."
How can Canadian expertise help Thailand, especially during this downturn in the economy?
"We are demand-driven. We have to respond to the needs of our Thai partners, and in keeping with the capacities of Canadian partners.
"But we can be particularly helpful through our information and communications technology. We see enormous potential for telephone and radio communications and information databases, and making those information databases available to grassroots projects. For example, the Canadian firm Radarset is involved in a project that will provide real-time data to Thai farmers to help them make decisions on what to grow, when to grow, and where and when to sell. Many other Canadian firms are looking for new opportunities here. We recently developed a successful project for 15 Canadian geomatic firms. Next February, we expect to have up to 12 Canadian telecommunications firms participating in the CommunicThailand Trade Show here in Bangkok. It's wonderful to see this growing interest by Canadian firms in the Thai market.
"But of course, a key commitment of mine is to continue to work hard to support Canadian firms that are already here, both large and small, representing a full range of sectors. Just take a look at who is working here now. We have world-class firms such as SNC, Bombardier, Bell Helicopter and General Motors Defense involved in some major project opportunities. We have equally strong firms involved in the environment, energy, natural resources and life sciences sectors. And of course, we have Scotiabank, which has developed a very strong and respected presence here in Thailand. I want to be an ally of all of these firms, and I am happy to advocate on their behalf to advance their commercial projects. More generally, whenever a Canadian firm signs a contract or reaches a significant milestone, we publicize the event on our "Success Stories" web page. We are also working closely with the Thai media to raise Canada's commercial profile locally.
"Canadian firms have a lot to offer Thailand in terms of training opportunities, transfer of technology and employment. Our technology and expertise are second to none. We have an excellent story to tell and I will work hard to ensure that Thais start to "think Canada" when they are looking for new commercial partners."

How do you view your role?
"I think it's really important for the Embassy to function as a team. Each of the managers must manage his or her own program. My job is to give advice, based on my experience, help resolve issues, and ensure coherence across Embassy programs. Since September 11, our consular responsibilities have been a high priority and I hope we have done an effective job of reaching out to the Canadian community to let them know we are here, we are approachable and we can be easily reached. We have recruited new wardens and updated our registration lists. And certainly one of my tasks is to become known to the Canadian community, so that they can feel free to call me, or any member of my staff, if they have questions or run into problems. We will give them the best advice we can. It's a two-way street, and we are grateful as well for the information and advice we receive from Canadians living here."
Please tell us how you deal with the demands of being an ambassador, especially when it comes to scheduling your time, doing your duties and deciding which functions you should attend?
"That's a very good question. I have to make choices virtually every day, and they are not always easy ones. Generally, I try to be as active as I can, and I try to attend as many events as possible. But I will always give preference to events or activities, which involve advancing concrete Canadian interests or assisting members of the Canadian community. I also try to focus on doing things that will project the kind of image we want for Canada in the minds of our Thai friends.Of course my family is of utmost importance to me and I try to protect some private time for them as well."
Rumor has it you had a fascinating talk with the King when you presented your credentials, can you please tell us about the meeting?
"His Majesty received me graciously and with great warmth. He was exceptionally well informed about Canada and about Canadian-Thai relations. He underlined the very close friendship between our countries, as well as the close ties, which members of the Royal Family have developed with Canada over the years. We began the conversation in English, and then His Majesty, remarking on Canada's bilingual character, switched to French. It was a great honor for me to have had an audience with His Majesty, and a highlight of both my professional career and my life."
Summing Up
It's always the little things that make the difference between doing a good job and going through the motions. The Ambassador has proved on a number of occasions, he's not just here to just go through the motions. On the weekend of Oct. 27-28, he took the time to fly to Chiang Mai to participate in the Terry Fox Run, held at the Regent Chiang Mai.
Then, the following weekend, he was kind enough to fly to Chiang Mai again, to drop the puck for the Asian Championship of the 7th Annual Chevron Ice Hockey Championship.This was a tremendous boost to the morale of the ice hockey community in Thailand.
Andrew McAlister is a nice guy. He brings a quarter-century of diplomatic experience with him to his new posting. He's bright, capable, caring, conciliatory, and considerate – just the type of diplomat the Thais like to deal with. Our future is in good hands.
Overview of the Ambassador's Diplomatic Career
His first job with the Foreign Service was in Ottawa from 1976-77 with the Commonwealth Division in the Department of Foreign Affairs and International Trade.
From 1977-79, he took his first overseas posting in Dar-es-Salaam, Tanzania, as the Second Secretary and Vice-Consul for the Canadian High Commission there.
He then went back to Ottawa, until 1981, where he worked in the Anglophone African Affairs Division for the Department of Foreign Affairs and International Trade.
1981-84 saw him take his second overseas posting, and his first in Bangkok, as he came here to be the First Secretary and Consul for the Canadian Embassy in the Boonmitr Building.
Then he went back to Ottawa for a year to work in the Political/Personnel Division as an Assignment Officer in the Department of Foreign Affairs and International Trade.
In 1985, he switched roles again, staying in Ottawa, but becoming Head of the Senior Management Secretariat again with the Department of Foreign Affairs and International Trade.
The next year, he was made Deputy Director of the Security Division of the Foreign Affairs and International Trade, still in Ottawa, and he stayed in that post until 1988.
Then he was sent back to South-East Asia, where he was made Counsellor and Consul at the Canadian Embassy in Manila, in the Philippines, a post he held until 1991.
It was then back to Ottawa, until 1993, where this time he held the post of Director of the U.S. Tariffs and Market Access Division for the Department of Foreign Affairs and International Trade.
From 1993-94, he held the post of Senior Departmental Assistant to the Minister of Foreign Affairs.
Then until 1998, he was the Minister and Deputy Permanent Representative in Canada's Permanent Mission to the Office of the UN in Geneva, Switzerland.Then it was back to Ottawa again until he came here, where he was working as the Director General of the East Africa Program for Canadian International Development Agency.
(The Ambassador is married to Bente McAlister, and the couple has two sons: Nicholas, aged 19 and born in Thailand, and Daniel, aged 13 and born in the Philippines).
---
FINIS