CIGARS THAI STYLE
by

---
Her sister, Apasara, was the first Thai to be crowned Miss Universe back in

1968. Another sister, Pavena, is a prominent social activist and politician

who recently ran for the position of Bangkok Governor. But Danaya Hongsakul

is no slouch either. You see, she's the person who brought Cuban cigars to

Thailand.
In 1990, Danaya took a trip to Cuba with a bunch of friends. While there,

she hob-knobbed with Fidel Castro and visited his brother Raoul's cigar

fields and she quickly became fascinated with cigars and the cigar business.
She noted that the key to Cuba's success in making cigars was the "3 S's" -

sun, soil and skill.

Returning home, she decided to study the cigar business. The next year, she

entered into negotiations with Cuba Tobacco, the organization that exports

Cuban cigars or Habanos. Danaya came to be the exclusive agent and

distributor of Cuban cigars in Thailand. Up until that time, their exclusive

agent in Asia was based in Tokyo.

So in 1991, Siam Havana Cigars became the first company to import cigars

from Cuba. Before that, there were no Cuban cigars available here in

Thailand. People had tended to smoke Dutch and Davidoff cigars from the

Dominican Republic.

About five years ago, the company decided to import other cigars as well so

it now has cigars from Honduras, Mexico, Nicaragua, Jamaica, the

Philippines, Indonesia and Belgium. Its cigar sizes can be divided into

three groups: slender (Cigarillos, Demi-tasse, Lanetelas, Long Panatelas);

standard (Half-Corona, Corona); and heavy ring guage (Churchill, Robusto,

Torpedo, Double Corona).

The majority of the above cigars are handmade as compared to machine-made

cigars from North America and other parts of Europe. The difference is

obviously the care and attention that goes into making a handmade cigar.

Machines can churn out 120 cigars a minute, whereas humans on the other hand

make only twelve pieces an hour.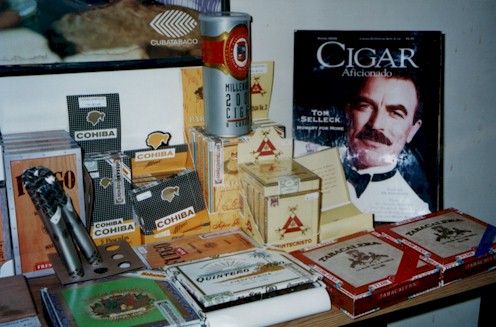 Khun Danaya's youngest son, Nothiwat "Ning" Prabhananda, is Siam Havana's GM

and he says, "We now want to have the widest selection of cigars in

Thailand. You see, many customers find Cuban cigars to be too strong,

especially Thais and other Asians who prefer a milder blend of tobacco. J

Cortez, a cigar from Belgium is very popular with Thais. "

Cuban cigars are also more expensive than other cigars, and as the demand is

very high the factories that produce the cigars can sometimes not

manufacture enough cigars. Siam Havana's prices are similar to the price you

would pay for a cigar in Hong Kong and Singapore. A medium size Montecristo

sells for Bt400.

Siam Havana's clientele is split between Thais and farangs. And of the fifty

percent that are farang, one-third of those are guests at either the Dusit

Thani or the Hilton where Siam Havana has its two outlets. The company can

also deliver cigars to your home and office.

Due to Thai law, Siam Havana cannot advertise directly, so it sponsors

events such as golf tournaments to garner publicity. Siam Havana is a

wholesaler as well as it supplies many hotels, restaurants, pubs, bars, golf

courses, sports clubs and retailers such as supermarkets and department

stores.

So, if you are dining out at say Angelini's, and you wanted a fine cigar

after dinner, the staff would bring you a humidor (a box made for storing

and keeping a cigar in good condition) supplied by Siam Havana. If you are

partying in Dubliners or Shenanigans, you'll see a Siam Havana humidor there

as well. In fact, Siam Havana's cigars can be found everywhere from the

Royal Bangkok Sports Club, to Tops Supermarkets, Foodland, the Salsa Club,

and even some mini-marts. Siam Havana also has accounts in Phuket, Pattaya,

Chiang Mai and Cambodia as well.

Before selling the cigars, Siam Havana conducts a two-hour training session

to make sure the staffs of the establishments selling their cigars know how

to properly cut and light a cigar. Siam Havana recommends using a high

quality cutter and making sure your cut matches the thickness of the cigar,

that it's a clean cut, and large enough to obtain a proper draw.

When lighting a cigar never let the flame actually touch the cigar - rotate

it slightly over the flame tip so that you can light the entire foot of the

cigar. Wooden long matches, cedar spills, and butane lighters are

recommended ways of lighting up. But never light a cigar from a candle

flame, as the wax particles will ruin the taste and burning quality of your

cigar.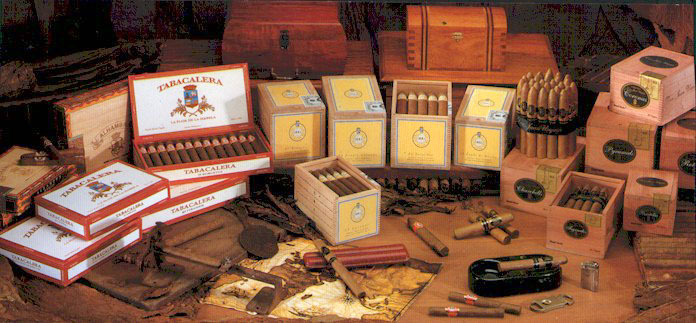 Once you have lit your cigar, remember it should be smoked slowly. Do not

drag on the cigar, or puff it too frequently as this will lead to

overheating and spoil the flavor. Danaya also says that as the cigar is not

a cigarette, you shouldn't butt it out. She recommends placing gently on the

ashtray and letting it die with dignity.

The late flamboyant Thai PM ChaChai Choonhaven was a customer of Siam

Havana's as is the current Thai Finance Minister Tarrin Nimmanhaeminda,

statesman Anand Panyarachun, politician Chalerm Yubamrung, the head of BMW,

Jesus Cordoba, and the CEOs of many other multinationals.

Men tend to like cigars more then women, but Ding says that the ladies like

slender Filipino cigars as they now come in vanilla, chocolate, strawberry

and coffee flavors. They also like J Cortez cigars from Belgium as that

company manufactures almost twenty types of cigarillos and they are

relatively inexpensive (a pack of twenty can sell for Bt300).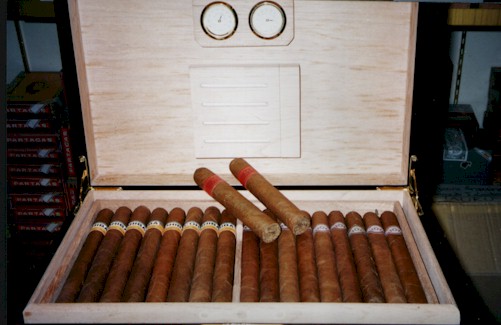 How about storing cigars? Well, the proper temperature should be 18-20

degrees Celsius, they should be stored in an air-conditioned room, or wine

cellar, and the humidity level should be seventy percent, so that the cigars

do not become too dry. As long as a cigar is kept in the proper conditions,

it can be preserved for dozens of years and nowadays many vintage cigars are

sold for top dollar at high profile auctions.

What does Ning recommend for cigar neophytes? "They should start with

something mild like a J Cortez, or a Tabacalera, the Filipino cigar, and

then move up step by step. Remember, a strong cigar should be smoked after a

meal. Its like drinking alcohol on an empty stomach, where you can get drunk

easily, you may become dizzy if you smoke on an empty stomach." Danaya says

a Montecristo # 3 or 4 are a couple of her most sought after cigars, and she

says they take about a half-an-hour to smoke.

Many of the younger Thai generation are smoking cigars because they are

trendy and less harmful to your health. Danaya points out that as cigars are

100% tobacco they do not have any nicotine, chemicals, papers or other

harmful ingredients that people associate with cigarette smoking.

Danaya says, "cigars need care and attention like a new born baby," so if

you are in the market for a well-kept cigar, check out the selection at Siam

Havana's two fine outlets.

Contact Info:

Tel: (662) 238-0032 ext. 2472

Fax: (662) 233-5259

E-mail: cigar@siamhavana.com

Website: www.siamhavana.com
---
FINIS