THE FRANCO-THAI CHAMBER OF COMMERCE
Christian Jallabert is the President of the Franco-Thai Chamber of Commerce. He's also the Managing Director of Thomson-CSF. Scott Murray recently spoke with him about the state of French investment in Thailand.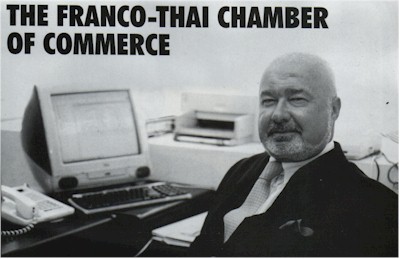 Christian Jallabert
"French investors have very clearly indicated that in spite of the crisis, they will remain in Thailand. They believe in this country, and they realize that the crisis will not last," he says.
"All of the French investors in Thailand have prevailed during this crisis, not one closed down or filed for bankruptcy. They refused to panic after investing so much time and money into the country. In fact, many French investors came to Thailand during the crisis because they saw the restructuring in process and because they saw there was a sound and stable government in power which was ruling wisely. And all of the French investors that are here are very optimistic about Thailand's future."
KEY FRENCH COMPANIES OPERATING IN THAILAND
* Accor Asia Pacific (Mercure, Novotel & Sofitel) - The largest hotel management company chain in the Asia-Pacific recently transferred its regional headquarters to Bangkok.
* Air France - France's national carrier has also recently moved its regional headquarters from Hong Kong to Bangkok.
* Alcatel - One of the world's largest manufacturers of telecommunications products and systems has a strong presence here.
* Auchan, Carrefour, Big C Casino are three of the major distribution companies in the world, and they are all expanding here.
* AXA - the French insurance giant does business here.
* BNP & Credit Agricole Indosuez - two major French banks are fully licensed to operate here.
* Bouygues - a major French construction company which helped to build the athletic stadium at Muong Thong Thani which housed the Asian Games.
* EDF - the French EGAT has also established its headquarters for the Asia-Pacific in Bangkok.
* Michelin - the tire manufacturer.
* Pasteur Merieux Connaught - a world leader in the biological field which manufactures vaccines has its headquarters for the Asia-Pacific here.
* Rhone Poulenc - the large agroproduct and development firm.
* Sekurit Saint Gobain which manufactures and sells a whole range of glazings for the automotive industry.
* Thainox, a Thai (the PM Group and Siam Steel), French (Groupe Usinor) and Japanese (consortium of six companies) joint-venture with the French having the majority interest. This steel company manufactures and exports steel to Europe, the US and Latin America.
* Thomson TV & Thomson CSF - TV, multimedia & professional electronics by Europe's largest professional electronics firm.
As you can see, the French presence here covers a large scope with biggest names and makes in French business and industry. And there are also a large number of French SMEs who are also thriving in Thailand.
And what about those famous French restaurants? Well, there seems to be DeliFrance franchises popping up all over the place, and there's La Boulange on Convent Road. Auberge DAB is a brasserie in the Mercury Building, at the corner of Chidlom and Ploenchit, which has the former cook of the French Embassy in Thailand preparing a variety of culinary delights. It's owned by a Thai lady, who fell in love with French food during a trip to France. Once a week, she even flies in oysters from Brittany.
Others of note are Le Metropolitan in the basement of Gaysorn Plaza, whose clientele is mostly Thai; La Moulin D'Sommai on Rum Rudee; the recently opened Soho on Convent Road; La Normandie on top of the Oriental Hotel is one of the finest French restaurants in the region; Chez Philippe's on Sukhumvit Soi 29, and both the Novotel Lotus and the Novotel Siam Square have fine French restaurants as well.
And when you think of France, you obviously think of fashion: Kookai, Morgan, Hermes, Louis Vuitton and Pierre Cardin all have franchises here. As well as the famed French jeweler, Cartier.
Mr Jallabert sees many similarities between Thais and French people. He says both are very independent, both like to discuss politics and criticize their governments, both like food, both are very open and both enjoy life. "I have never heard a French person tell me they do not like Thailand, I even know people who have cried like babies when they had to leave the country."
He also says that surprising there are more French speaking people in Thailand than in Vietnam, so much so that Alliance Francaise cannot keep up with the demand, even though it now has centers in Phuket, Pattaya, Chiang Mai and Bangkok. The French language is quite spread out throughout the country as more and more Thais are wanting to learn French, and more and more are speaking it.
Mr Jallabert also takes pride in noting that many of the framers of the new Thai constitution, and many Thai legal scholars, honed their legal skills in France. Indeed, French expertise and experience are welcome here.
The French community here is very well established and gets along well with one another. The FTCC, the Embassy, the French Trade Commission and the French Counselors for Foreign Trade all work together harmoniously for their benefit and for the benefit of Thailand as a whole (SM).
(Monsieur Jallabert, who was Siam Trade's Cover Story, Vol. 6, #69, will finish his second term as President of the Franco-Thai Chamber of Commerce this December. FTTC bylaws state that a president may only sit two consecutive two-year terms at a time.)
Contact Info:
Tel: (662) 254-3403
Fax: (662) 254-3400
E-mail: thcsf@asiaaccess.net.th