GAVROCHE FILLS A NICHE FOR FRENCH READERS
By


---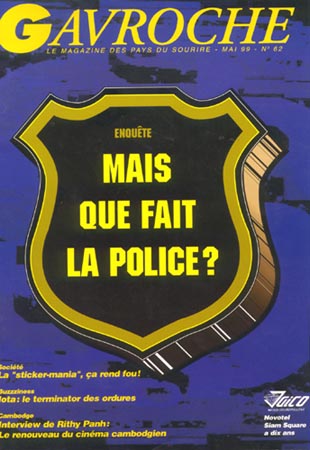 Maybe I should call this piece "Two guys named Philippe" because that's who started Gavroche, South-East Asia's only independent French magazine. Philippe Plenacoste and Verney were the driving force behind the publication. Verny was the original commercial director and Plenacoste the editor-in-chief. Today, however, Plenacoste is in sole control being the managing director and editor, and a new Philip, Philip Latour, as assumed the mantle of editor-in-chief.
The two original Philippes arrived in Thailand in 1988: Verny, having worked in the video rental business, and Plenacoste in the tourism business. Half the year Plenacoste spent guiding trips through Vietnam and Thailand, the other half he shuttled over to work as a safari guide in East Africa (Kenya, and Tanzanikya.)
In June of 94, they decided to join forces. Neither had any experience in the publishing business, but they were determined to give it a shot. Plenacoste admits, "the first issue was a piece of sh*t. It was sixteen pages, black-and-white, and published on low quality paper. But we decided if we could find a market we would try to improve month by month and we would hire professionals to help us and then we would learn the business step by step."

Philip Plenacoste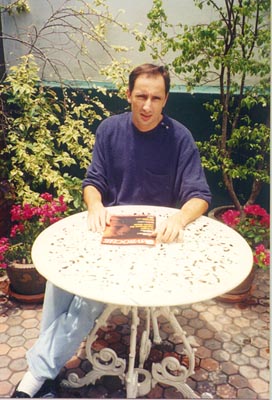 The magazine has been called the French Metro, or to some maybe Metro is the English Gavroche. So, what's the difference between Gavroche and Metro? "We have real editorials (ouch!)," says Plenacoste citing articles his magazine has published on the Khmer Rouge, child abuse, the Russian community here in Thailand, target shooting and katoeys.
The name stems from a character in Victor Hugo's book Les Miserables, a street urchin who had to fight against the odds to survive. Plenacoste draws the analogy between his magazine; an independent fighting to meet its operating costs, and the bigger publications.
The eighty-page magazine retails for Bt70, has had over 100 advertisers and claims a circulation of 14,000. Its circulation in Thailand is 10,000 and itís available in Bangkok, Pattaya, Phuket and Koh Samui. It also has a circulation of 2,000 in Cambodia and 1,000 in Laos plus another 1,000 subscribers. The magazine will also go on sale in Bali this September.
Gavroche maintains an office in Cambodia although at times the Cambodian Information Service has reported that it is `not welcome' because of some hard-hitting articles it published on Cambodian affairs.
Plenacoste reflects on another French publication, Le Mekong, which unfortunately met an early death in Phnom Penh. "Marketing problems in France where it was very expensive to circulate caused its demise but it was more of a political and economic journal. It was also a very serious publication. We are more of a satirical publication, but we are truly a reflection of the French mind."
Gavroche is mostly for the French ex-pat community. It's very practical as it provides listings of what is going on in Bangkok and around the country for those traveling through, or residing here.
The magazine has two full-time writers. And none of the work is translated. It is all originally written in French. Glance at the masthead of any issue and it is clear that the best French writers, photographers and cartoonists living and working in this region contribute to Gavroche on a regular basis e.g. Philippe Deceaux (FCCT president) Thierry Falisse, Raphael Franco (whose father Guido is a famous photographer in France), Stephane Peray, Helene Vissiere, Philippe Guersan, and Arnaud Dubus. They also have a correspondent, Jerome Laguerrre, in France.
Gavroche has come a long way in a short time. There are three French newspapers operating in the region: Cambodge Soir, Le Courier de Vietnam, and Le Renovateur in Laos, but they are all supported by the French government. Plenacoste is extremely proud that his publication is independent. The two Philippes originally set out to design a magazine that would cater to the French community in the region and they have been greeted with open arms.
Contact Info:
27/20 Soi Nailert, Wireless Rd, Pathumwan,
Lumpini, Bangkok, Thailand, 10330
Tel: (662) 253-3929, 655-3330
Fax: (662) 655-5933
Website: www.gavrochemag.com
E-mail: gavroche@loxinfo.co.th
---
Finis