I could barely contain my excitement as my flight lifted off from Lester B. Pearson International Airport in Toronto. My objective was to visit Bangkok's self-proclaimed best beach, located in Larry's Dive Center, Bar & Grill, in the downtown core of the Big Mango - that's Bangkok, one of the craziest cities in the world.
The idea had germinated when I read that they were filming Alex Garland's The Beach in Thailand, starring Leonardo DiCaprio. It only made sense that they had to be filming at Larry's, eh?
I was fascinated by Larry and I couldn't even begin to imagine how large his place had to be. Imagine having the finest beach in a country known for its beautiful beaches, right there in the heart of the capital city. One of the regulars at my dart club back in Toronto had told me how he'd learned to scuba dive at Larry's, by repeatedly ducking his head in a big blue barrel. Wow, I marveled, what deep-water acumen this guy Larry must have. So I was pretty excited on the plane, and I whiled away the flight with visions of Larry and his establishment.
I'd done some big stories in my time, like Sasquatch, Nanook of the North, Lizzie Borden's sister, the Mountie who inspired Dudley Do-Right and a research assignment trying to decide if ex-NHLer Al Secord was indeed related to Laura. But this story, tracking Larry to his beach, would be my biggest coup yet.
As soon as I cleared Thai customs, I rushed out of the arrivals area, eager to get started. Cab drivers besieged me, but I brushed them aside. I was looking for a sign, somewhere, anywhere, that said "Larry's - Thataway," but it was not to be.
I eventually wandered outside the airport building and hailed a tuk-tuk, one of Thailand's famous three-wheel taxis. "Bangkok's best beach," I said. Well, the driver just looked at me and laughed. "Ba" he said, and drove off. It turns out "ba" means crazy, and I ended up being called that quite often during my stay.
Despondent and distraught, I eventually saw someone walking onto the airport terminal with hockey equipment. A fellow countryman, I surmised, recognizing the Canadian male's substitute for a teddy bear anywhere. "Larry's Dive?" I hollered. "Oh, of course, eh," he replied. Turned out Jerry McAlister (that was his name) was a regular at Larry's - and also a member of the Flying Farang Hockey Club ("farang" meaning foreigner in Thai). "Take a cab to Sukhumvit Soi 22, he said and look for the big yellow sign."
So I headed to Soi 22, eventually figuring out that "soi" means street in Thai. When I did hit Larry's, I was somewhat taken aback by the signboard, which made Larry look more like Anthony Edwards in Revenge of the Nerds than the debonair sophisticate I expected. I sniffed around the doorway a bit before going in, and was amazed at what I saw. One sign warned, "Warm Beer, Cold Women, Slow Service and Lousy Food." I seemed to remember reading a brochure somewhere that claimed Larry's was one of the top beaches in the world - ranking right up there with the Copacabana in Rio de Janeiro and Bondi in Sydney. But I was beginning to think something was amiss.
I entered the restaurant and soon felt sand beneath my feet and exotic palms brushing my face. More signage: "The Cook Has Gone Mad - Please Stay Out", "If Your Name is Larry - Get a Free Drink" and, on a T-shirt, "Who the *#@&! is Larry?" Now I may be dumb but I'm not ignorant, eh. Larry's wasn't a beach. I mean, even with the sand, the palms, some patio decking and beach chairs, the place still wasn't any bigger than, say, Fran's Restaurant back in Toronto. "Bangkok's best beach," I sulked. "Yeah, right." My sulk was interrupted by friendly sort, all decked out in a yellow Larry's Dive T-shirt. "We are a beach within a traffic jam," he explained, guru-fashion. "And yes, we are the finest beach in Bangkok."
What luck! Larry wasn't around, but here was Rob Denis, restaurant manager. I tried to interrogate him, but his job kept him scurrying all over the place, yapping with the patrons. So I sat down and read the Larry Examiner, part tabloid, part menu. It has the largest circulation of any newspaper on Soi 22, it told me. Banner headlines screamed, "Soros denies allegations, explains it was Larry" and "New Seafood BBQ, only twenty-eight casualties on opening day." Even though no one came up and apologized to me, the place definitely had a Canadian feel to it.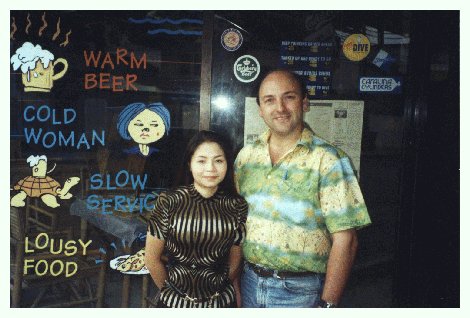 Robert Denis and friend of Larry's Dive
As I read, I was serenaded by the sounds of Jimmy Buffett, "wasting away again in Margaritaville." I looked up and took in the collection of people hanging around the pool table and the pinball machine: business executives, ex-pats who looked as if they were left over from the Vietnam War, young international hipsters, bikers, jocks, Thai students - a veritable cornucopia of characters, all probably in search of Larry, just like me.
By now, I was feeling somewhat parched, so I glanced at the menu part of the tabloid/menu to see what libations Larry's had to offer. Well, I should have known. The drink list was called Larry's Vices and it offered things like "Larry's Navel" (vodka, peach schnapps and orange juice), "I Dream of Larry" (vodka, Midori and orange juice) and even "Sex with Larry," which was pretty innocent after all (vodka, peach, schnapps and cranberry juice). The beer of choice seemed to be Heineken, closely followed by Carlsberg, Kloster and the dominant Thai brand, Singha. I saw some Guinness floating around as well, probably the work of the Irish diving instructor (I'll get to that).
The menu had food, too. Chicken wings, burritos, souvlaki, chili, tuna melts and the like might not seem extraordinary for a restaurant back home, but I'm told they're definitely something special for an eatery in Bangkok. The only thing missing was doughnuts. The waitresses were milling about in snappy white waiter-jackets, and every time they flashed a smile, you felt better and fell in love.
When Denis found time to sit down for a minute, he filled me in on how Larry's came to be and told me a little about himself in the process. He hails from Barrie, Ontario, and graduated from the University of Western Ontario with a degree in mechanical engineering. He spent a couple of years working in Kuala Lumpur before landing in Bangkok in November 1996, when he hooked up with Larry in the restaurant business.
Larry's opened in April `97. "The diving industry was a growing sport in Asia and some of the best dive spots are located in Thailand," says Denis. "So the idea was to bring the beach to the city. We've set up our scuba courses, teaching both NAUI and PADI, so you don't waste time on the beach - you can dive as soon as you get there."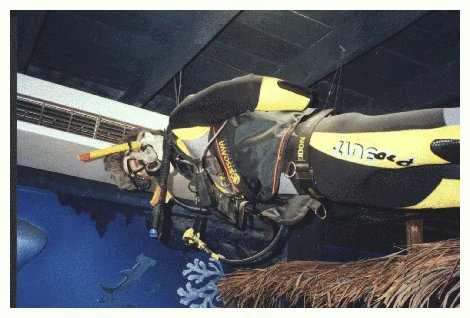 Wall hanging at Larry's
I suddenly realized there was more to it than that blue barrel I'd heard about at my dart club. "We have the classroom here, for the theory part of the training, and poolwork is at the Novotel [Bangkok] Lotus, right nearby. Then one weekend, our student-customers pick their destination of choice - Phuket, Pattaya, Koh Samui or Koh Tao - and do their required four open-water dives. Once this is complete, they become certified divers and receive their cards."
Larry's has seven dive instructors, working under dive shop manager and diving instructors, Ciaran McGoran (the Guinness connection, I bet). Since they all come from different countries, you can learn to dive in Japanese, Chinese, Thai, German, French, English, or Spanish. Larry's is a dealer for Poseidon Dive equipment, the firm that invented the single hose regulator back in 1958, and carries its own house brand of equipment and underwater wear as well.
A few months after Larry's opened the recession hit and the Thai baht was devalued. "Trying to run a business now is a huge challenge," says Denis. "Our response is to offer a higher level of service in everything we do, from the bar to the food and the diving instruction. We make lots of jokes [well, I'd noticed that], but the diving instruction is serious. Our first priority is safety."
The strategy must be working, because despite the economy Larry's quadrupled in size in its first year, and now it's about to expand to the Thai beach resort of Pattaya (where it already has a scuba center). Denis says Larry has plans for Koh Samui, Phuket, Kuala Lumpur and Singapore as well, some time in the future.
Well, I'd found Larry's and seen Bangkok's best beach but I still hadn't seen the mysterious Larry. He was apparently everywhere and anywhere. "Leading a band of benevolent bikers through northern Thailand," said one source, a regular at the bar. "Hobnobbing with Myanmar opposition leader, Aung San Suu Kyi," said another. "No, off on another demining mission to Cambodia," argued a third. I sighed, but I took some solace in knowing that Nate Thayer - a correspondent with the Far Eastern Economic Review - had spent almost two decades looking for Pol Pot before he finally found and interviewed him (just before the heinous leader of the Khmer Rouge died). I only hope it doesn't take me that long to find Larry.
---

Pertinent Info

8/3 Sukhumvit 22, Klong Toey,
Bangkok, Thailand, 10110

Web site: www.larrysdive.com

Office: 663-4560, Bar: 663- 4563, Fax: 663-4561

e-mail: larrybkk@larrysdive.com

Happy Hours: 4 to 8PM

Open: 10AM to 2AM
---
Finis