King of the Swingers.
by Mick Shippen
A native of the forests of Thailand, the gibbon has suffered greatly from a lucrative trade in babies and large-scale destruction of its natural habitat. In Tak province a Thai- American couple work tirelessly to help the victims of abuse.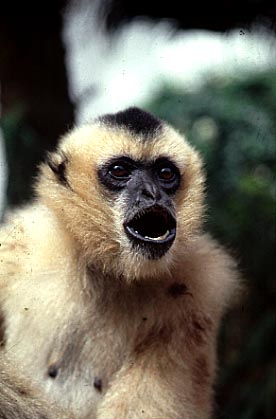 ---
| | |
| --- | --- |
| | Holger was feeling a little overwhelmed by all the attention. A new face in the house made him unsure of things and he clung tightly to a bright-red security blanket. When this failed to offer the required reassurance he plunged a familiar thumb into his mouth… and sucked. Being fully experienced in the ways of infants and in an attempt to gain the young ones trust I resorted to smiles and sweet-talk. The reward for my patience was an outstretched leg and a small leathery foot thrust bravely into my hand, the toes curling tightly around welcoming fingers. Such a simple gesture but one not easily forgotten. |
Holger, of course, is no ordinary youngster but a concolor gibbon. Now a charismatic and intelligent two-year old, he was originally rejected at birth by his captive parents. Welcomed with open arms by Pharanee and William Deters, and now one of over thirty gibbons in their care, home for young Holger is Highland Farm just outside Mae Sot in Tak Province.
Known in Thai as the Cha-nee, the first frightened and injured baby gibbon was brought to their door in 1991. In this particular case a hunter had shot the mother, and the orphan - later named Chester - who was deemed as having no value because of his injuries, was given to the Deters.
Relocating to Mae Sot from the USA, the Thai – American couple where looking forward to a quiet and well-earned retirement but Chester changed all that. As the surrogate parents struggled to find out information about the habitat and behavior of gibbons it soon became apparent that the tragic fate of Chester's mother was an all-too-familiar story.
'Hunters pose one of the greatest threats to the gibbon population in Thailand, indeed in Southeast Asia. Mothers are frequently shot so that they can take the baby away. The youngsters are then sold as pets or used as an attraction in a bar,' explained William.
It is widely believed that for every baby gibbon captured by hunters another two youngsters and three parents have died in the process.
Resort towns such as Pattaya are common haunts for gibbons and their tormentors. Despite the fact that hunting and trading gibbons in Thailand is illegal, the law seems unable or unwilling to tackle the problem. Complacency and acceptance on behalf of a general public all too willing to hand over a few baht to be photographed with a distressed or drugged animal, certainly doesn't help the situation.
Although it is easy to see the allure of a baby gibbon it is, however, a wild animal and as they mature - at about four years of age - they become aggressive and unpredictable. The result inevitably is confinement or rejection by the owners.
Once the scale of the problem became known to the Deters it was impossible for them to stand idly by.
'Almost without question we decided to commit the rest of our lives to caring for the gibbons', added William.
Most of the magnificent primates that they care for have one thing in common; they are victims of neglect and abuse at the hands of man. Take Denny, for example, who was kept by her owner in a wooden box just sixty cm square. She was discovered in a pitiful condition, almost hairless and suffering from wasted muscles.
Mimi is another tragic case whose life was typical of many captive gibbons. When not confined to a cage she was led around the streets of Bangkok to be photographed for money. William explained her story

,
'She climbed up a pole in the city and grabbed hold of an electric cable. The resulting burns to her left forearm and lower left leg were so severe that they had to be amputated. She also lost the sight in one eye.'
No longer of any use to the owner, Mimi was discarded. The Deters trip to Bangkok to rescue her also brought news of another young gibbon named Jerry. Unable to leave this victim of brutality with his keeper, William and Pharanee returned with Jerry too.
'The owner, a military man, kicked him so hard that he suffered terrible hip and spinal injuries', said Pharanee.
It is a sad irony but due to such maltreatment and long periods of confinement the gibbons are now totally dependent on man. At Highland Farm however they are offered a safe haven and unconditional love - a place to escape the cruelty. Walking around the enclosures of the thirty-five acre property William told the life history of each ape, of the sorry state they were in when they arrived and how they have responded to treatment. Although no cure for the physical scars, the love and devotion that they give to the gibbons has gone some way to heal the deep emotional wounds.
An insight into the Deters generosity of spirit and deep attachment to the animals can be gained from an entry in William's diary, in which he says,
'A new member of the sanctuary family is Kerrie, a seven-year-old concolor girl severely crippled from polio. Her legs are useless, as are the fingers of one hand. Most of her hair is gone …in six months she should be a beauty'.
A major factor in the seemingly endless supply of orphaned gibbons is the continued destruction of their natural habitat. A truly arboreal creature and perhaps one of the world's greatest acrobats the gibbon has little chance of survival if current levels of deforestation and human encroachment continue. Inhabiting the upper canopy of the forest, the gibbon's aerial artistry is nothing short of spectacular. Capable of leaping gaps of over ten meters while traveling at great speed, this shy and reclusive creature is a threat to no one. Yet in Southeast Asia the gibbon has been hit harder than any other primate has. A visit to the Myanmar border market of Tachileik opposite Mae Sai, where stall-holders openly (and seemingly without any sense of shame) sell the skulls of gibbons and other primates, serves as a grisly reminder that time is running out if we are to save these fabulous creatures. Although no primates have become extinct within the last 100 years scientists believe that about twenty percent of them face that prospect over the next twenty years. The gibbon is one of them. Of the nine species worldwide, all are seriously endangered.
'Only last week we rescued a five year-old gibbon that was being kept caged by the Forestry Department. It was on display at the entrance to Tam Lod Cave in Mae Hong Song province' said William.
Clearly distressed and tormented by visitors the animal had bitten many a finger and was living a miserable existence in cramped and dirty conditions. An inadequate diet and soiled water had seriously affected his health. Despite this the Forestry Department was reluctant to let the Deters take him away and it took much persuasion and patience before permission was eventually granted.
Pharanee commented, 'One of the most distressing things for the gibbon was the fact that the rest of his family were still living in the surrounding hills but all he could do was call to them. At Highland Farm he'll be in close contact with other gibbons.'
Such distress in tangible when you consider that the intense bond formed between mother and child lasts for over ten years. Not only do the parent's pair for life but they also share responsibility for raising the offspring.
Twenty miles from Tam Lod another baby gibbon is currently being kept at a shop. William and Pharanee hope to rescue it soon but such negotiations often prove difficult, as the first thing on the owner's mind is usual money. The Deters, however, refuse to buy the youngsters believing that such actions merely fuel the trade. Initial talks with the owner were enlightening.
'She was only in her 'late thirties' but recalled that as a teenager, every morning, the hillside opposite her shop was bursting with the 'whooping' sound of gibbon song. Now all is silent and it is likely that the baby in her shop is the only one in the immediate area. Most of the others will have either been killed or captured. A few lucky ones may have moved deeper into the forest away from man', said William.
Highland Farm was quick to recognize the importance of education in the struggle to improve the current situation and embarked on a number of programs to help address the problems. Raising public awareness of the gibbons' plight is seen as paramount to bringing a halt to the trade in youngsters.
'Getting people to understand the cruelty involved, and to resist the temptation to buy a baby or give money to be photographed with one, is essential. We need to take the price off the head of the youngsters and in that respect everyone has a part to play in saving the gibbon. Loosing that fight will mean that one-day Thailand's entire gibbon population will be viewed through the bars of a cage. That is a high price to pay and a very sad prospect', says Pharanee.
Since Chester came into their lives nine years ago over 14,000 visitors and school children have come through the farm to learn about the gibbons. None can fail to be touched by the experience.
For those who are interested in serious research into gibbon behavior the Deters also allow students and professionals to stay and study at the farm. There is also an Adopt-a-Gibbon scheme. All these programs are designed not only to increase understanding but also to raise much-needed funds.
'Highland Farm is a private concern and we rely on our own finances to keep the place going. The generous contributions of volunteers and guests are always welcome and play an important part in the continual development of the sanctuary', explained Pharanee.
It's a task that cannot be taken lightly. Each year the number of gibbons in their care increases and with an average life span of forty years, plans for the future are essential. Yet despite their heroic efforts and undeniable commitment, the Deters are only picking up the pieces thoughtlessly dropped and ignored by a society that seems to care little about its indigenous species. The real battle is to win the hearts and minds of a nation.
William added thoughtfully,
'Often described as the songbird of the primates because of a beautifully musical call that resonates through the treetops for well over a kilometer, the gibbon has made its way into Thai mythology. For the forests of Thailand to fall silent and for the gibbon to be condemned to the pages of a storybook would be a tragedy heard all over the world'.
| | |
| --- | --- |
| | Holger suddenly released his grip on my finger and quickly withdrew his outstretched leg. Wrapping his long arms around Pharanee and clinging tightly he, like over thirty others felt safe and secure in her presence. |
Info for donations.
Highland Farm and Gibbon Sanctuary, Km.42.8, Route 1090, Tambol Chong Kab, Amphur Prop Pra, Tak 63160.
email highland_ape@hotmail.com
All donations are gratefully accepted and for a monthly fee of $5 US you can join the 'Adopt-a- Gibbon' scheme.
Cheques and money orders payable to Highland Ape, C/O Krung Thai Bank, Mae Sot Branch, Tak, 63110. Savings Account no. 604-1-41229-5.
For more details visit the web site www.members.tripod.com/highlandfarm/
***************************************
American Owner of Thai Gibbon Sanctuary Killed, Police Say
The Associated Press
Published: May 11, 2002
---
FINIS