LANDSCAPING DELIGHT
by

---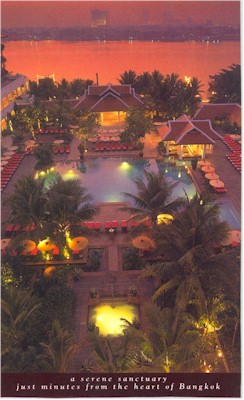 If every major hotel in Bangkok has its own special characteristic then landscaping must be what sets the Bangkok Marriot Resort & Spa apart from its competitors. Eleven acres of lush gardens, pools and lily pads give it a verdant presence that no other local resort can match.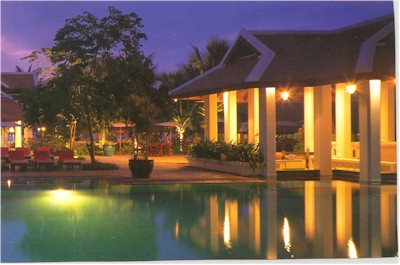 The hotel's inner courtyard and pool area with its swim-up bar and glorious jacuzzi view of the tropical brush will make you forget you are in the bustling city of Bangkok.
All 420 rooms of the low-rise resort are comfortable, cosy and luxurious. When you see the bathrooms you might wonder if the designers spent some time at Versailles' famous "Hall of Mirrors." There are mirrors everywhere! Let's just say couples can let their imaginations wander.
If your aching muscles are aching, the hotel recently opened the luxurious Mandara Spa where you can relax and enjoy massages, body treatments, facials and spa packages.
And for those business types from out-of-town, the Marriott has state-of-the-art videoconferencing, allowing you to stay in constant contact with your head office or clients in other parts of the world.
Whether you need to come and go for business or pleasure, access to the Marriott is simple. Getting to the hotel by car is much easier now that the new Krungthep Bridge has opened; whisking you over the traffic chaos that still clogs the Thanon Tok intersection. The more interesting and relaxing way to commute to the hotel is via the hotel's complimentary barge that travels to both the Oriental Hotel and River City piers at regular intervals.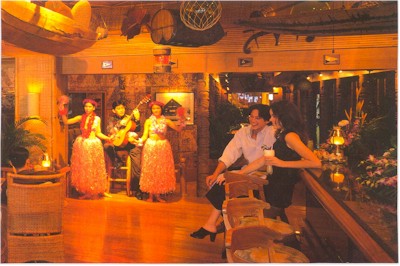 Speaking of river travel, the hotel has two beautifully restored rice barges, the Manorha & Manorha Song, that take guests on excursions up to the World Heritage Site of Ayutthaya. If a day on the river isn't what you had in mind, then maybe an evening meal is more your style. The Manorha departs nightly at 7:30pm for a three-hour cruise on the River of Kings. Beautiful night views of the Grand Palace, Wat Phra Kheow (the Emerald Buddha Temple), and Wat Arun (the Temple of the Dawn) complement the Manorha's delicious Thai cuisine.
For those who prefer land-based dining, the hotel has a number of good restaurants. Benihana offers "teppan style" cuisine where guests sit around the food preparation area and watch chefs display their lightning slicing and juggling skills. It's not just a delicious meal; it's also a spectacular show.
The traditional Benihana teppanyaki meal comes with Japanese onion broth soup, a Benihana salad with ginger dressing, shrimp appetizer, Hibachi vegetables, steamed rice and Japanese tea.
Trader Vic's, renowned for its exotic drinks, was originally founded during the 1930s back in San Francisco. It was the late Victor J. Bergeron, `Trader Vic' who was credited with discovering the famous "Mai-Tai" rum cocktail.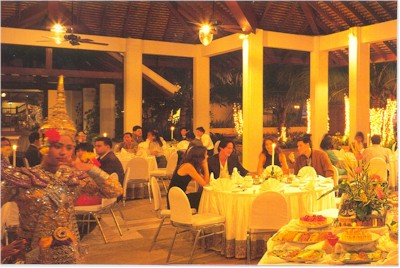 The food is equally famous and ranges from Polynesian to Asian with a hint of Caribbean thrown in for good measure. At the heart of all Trader Vic's kitchens is their unique Chinese wood oven, which dates back to the Han Dynasty (206BC-20AD). The meats, fowl, and fresh seafood are suspended from hooks and slowly cooked; smoke from the burning oak or seasoned woods imparting a distinct and original favor.
Trader Vic's offers the "River of King's Jazz Brunch" every Sunday between 11:30am and 3pm. The international buffet is accompanied by a fantastic jazz quintet, providing diners with both an oral and aural feast.
Whether you're a resident of Bangkok looking for an escape or you are simply traveling through, the Marriott Royal Garden Riverside has everything you need to stay in touch or lose touch; the choice is yours.
For more information, contact:
Khun Wannapa Rakkeo
Tel: (662) 476-2001-2
Fax: (662) 460-1805, 476-1120
E-mail: wannapa_ra@minornet.com
Website: http://www.royal-garden.com
---
CHAO PHRAYA CRUISING
by

---
Tranquillity is the best way to sum up the feeling one gets while cruising on the Manohra Song. This refurbished rice teak barge glides through the Chao Phraya River, making you feel at peace even as you cruise through the hectic urban sprawl that is Krungthep. The boatbuilders really went to town on this craft, providing it with a comfort level unsurpassed by any other vessel in Bangkok's waters.
Leaving from the pier of the Marriott Royal Garden Riverside, the boat heads upstream and stops at the fascinating Mon community on Ko Kret Island - where all kinds of fascinating pottery abounds - before finally docking outside Bang Pa-In Palace for the night.
The next day you can wander around the Palace and its lovely grounds, which were used a country residence by every Ayutthaya monarch after King Prasat Thong (1630-1655). Then as the barge heads downstream you can stop off at Bang Sai to visit the Royal Folk Arts & Craft Center, established under Her Majesty the Queen's Royal Patronage on 21 July 1976. But if you are not into handicrafts, you can always just catch some rays on deck, while your shipmates go shopping.
You know that fabulous Thai service you have heard so much about, well its very much in evidence on this barge. The Manohra's staff is wonderful and unobtrusive as they just let you be, yet serve and attend to you when need be - making a fuss over you, without making a fuss over you. And the four luxurious cabins, each with their own washroom: magnificent.
You can just lie in your bed and watch the teeming life on the river banks drift by. It's enthralling and soothing at the same time. Leave the mobile and office worries behind, get a new perspective on life, chill, and just think the world is a wonderful place.
There is simply no doubt that one of the best things you can do while on a trip to Bangkok is a take a trip upriver on the Manohra Song.
You'll feel like Joseph Conrad before he docked and went to dinner at the Oriental. And when the boat picks up a little steam, you'll probably stand on the bow mimicking Leonardo DiCaprio and scream, "I'm the King of the World." If you are tired or stressed out, a trip on this boat, will totally rejuvenate you. Bottom line: there are just so few things in life that can make you feel as good as a trip on the Manohra Song, if you can afford it, make the trip.
The Manohra voyages include luxury one-two night cruises with a maximum of eight people, but no kids under twelve are allowed unless its a private charter. Everything is included except for the cost of alcoholic beverages, although a full cash bar with a wide selection of wines and liquors is available on board. Prices vary depending on the time of year, but there are different rates for singles and doubles.
The Manohra also has daily lunch (Bt 950++ per person) cruises as well as daily cocktail sunset cruises (Bt 500++ with unlimited non-alcoholic drinks & snacks) and daily dinner cruises (Bt1,200++). The cuisine is Thai, and the capacity is forty people per cruise.
Private charter prices depend on the barge used and the length of the cruise. It's best if you book a week in advance, but you can go any day of the week, and you have an option of routes as some people want to go further upriver to Ayutthaya, and some want to return by coach.
Contact Info:
Supasak Vathasoonthornkul, Manorha Operations Manager
Tel: (662) 477-0770
Fax: (662) 476-6086, 476-1120
E-mail: mcruise@minornet.com
Website: www.royal-garden.com
---
Finis