LIQUID LAOS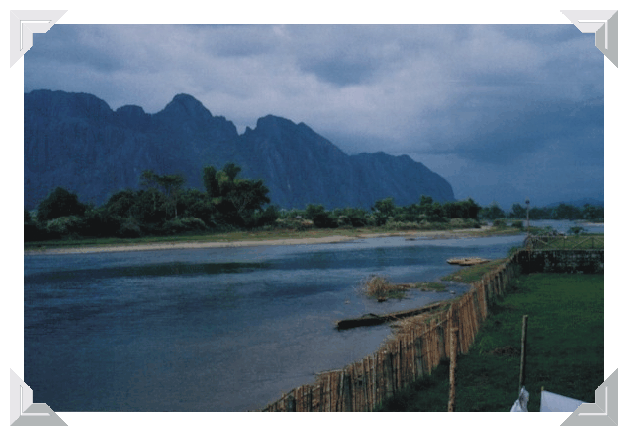 Blasting north up the Mekong in a high speed skiff that resembles a great big shoe is as close as you'll get to Formula One in Laos


by Dennis Duncan
---


Even in the dry season when it's at its lowest levels, the Mekong River is a monster to behold. But right now I'm not thinking about the immensity of Southeast Asia's biggest river, I'm thinking about how tiny the speed boat is that my companions and I have just hired.

And there it floats twenty meters down a steep sandy bank hugging the rails of Kao Liaw boat pier just north of Vientiane, Laos. It's a sleek little devil. Capable of seating six, its forty horsepower engine can be heard farting loudly as it hammers up and down the river every day. It's five-meter long skiff is painted bright yellow with red racing stripes to make it go faster. It's a man's machine - the monster truck of the Mekong. I say one 'Hail Mary.'

I take a look across the river's wide expanses to Thailand and ponder the situation. Three days ago, four of us from Bangkok had crossed into Laos from Thailand looking for excitement and adventure in Vientiane.

We didn't do too badly either. We bought stacks of kip (the local currency) on the blackmarket, and used it to buy stacks of Beer Lao at local night clubs; we rented scooters and blazed across the urban frontier choking to death on red dust thrown up by dump trucks that were carrying even more red dust; we hung out at monuments, ate at fine French restaurants and contemplated fiery sunsets while sipping Lao whiskey. But then it was time to move on, and with 4,600 km worth on navigable river in this tiny country, the decision was easy: lets take a boat...somewhere.

Blasting north up the Mekong River in a high speed skiff that resembles a great big shoe is as close as you'll get to Formula One in Laos. It's loud and its fast, and your butt bounces with every jolt. Our captain is a pro, slicing expertly through the rapids and whirlpools that frequently appear with the dry season. Rock formations that are submerged when the Mekong is swollen, appear now as jagged outcroppings to be zig-zagged through.
We take a break to refuel at a bamboo shanty floating on oil drums at the side of the river. The engine cuts out and the silence falls on us like a lead muffler. We wander about on the sandy shore in a dazed state, our ears ringing as though the eardrums have been blown to smithereens by the boat's loud engine. The sun sets casting a blood-red glow over the river and there is nothing but jungle. It's surreal.
| | |
| --- | --- |
| | We stay the first night in Pak Lai, a sleepy village with a couple of riverside guesthouses. The locals are fabulous and force feed us cat fish and sticky rice, all washed down with Beer Lao. We awake the next morning to Lao coffee and government indoctrinations spewed from a loudspeaker at the village headman's house. "Go to work, pay your taxes, big brother loves you!" |
We get back in the boat and jet north. We cruise into Luang Prabang a couple of hours later and scramble into town. A little travel brochure speak here: Luang Prabang looks as though mystical Shangri-La, a quaint French town and a colourful hilltribe village collided at a cosmic intersection and landed in the jungle beside the Mekong River. It has World Heritage Site status, and it deserves it. It's beautiful, serene, well preserved and entirely unique from anything you'll see in Asia.

Founded in the seventh century, the city has played host to Lao and Khmer Kings, Vietnamese and Thai invaders and eventually French colonists. For this reason it has a beguiling diverseness which spawns excellent food, interesting architecture and wide variety of different people. One night after swilling a concoction of Lao whiskey and local red wine (no, its really good!) we found a live music bar where everybody was line dancing cowboy-style! There's even a touch of North American `redneck' to be found.

Three days rest and we're ready to ride the river again. Only this time, we're taking it slowly. We hire a slowboat to take us the two days to Huay Xai, the last border crossing into Thailand before the Mekong disappears into Myanmar. Normally, this fifty-foot wooden chugger would take up to twenty people on such a journey. However, the four of us pool our cash and buy all the seats. To add homey comfort, we buy several mattresses and lay them out on the boat's flat six-foot-wide floor. The captain, Khong, is all smiles as we'll leave them for him and his family to use.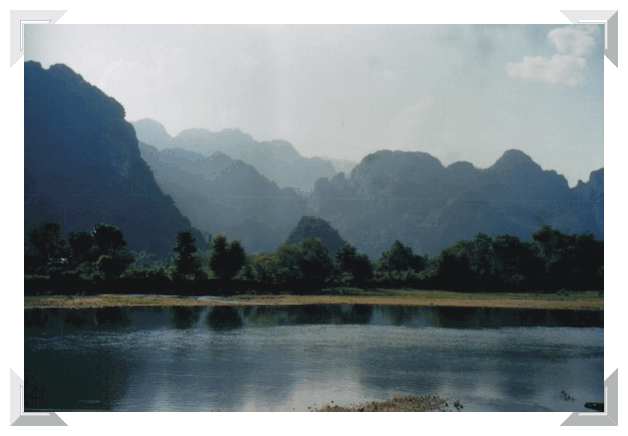 And we're all smiles too as we pull out of Luang Prabang on our very own riverboat. The four of us immediately inspect our new mode of transport. Conclusion: Don't move around too much on the roof as it throws the craft off balance, and don't look in the engine room as you'll see the captain's son madly bailing out water from around the motor. I say two `Hail Marys.'

The slowboat is quiet, relaxing and allows ample time for reflection. The Mekong River is a brown serpent churning 4,350 km through China and Southeast Asia. The twelth longest river in the world, it's also tenth in terms of water volume. In Southeast Asia not a dam hinders its flow and no bridge spanned it until 1992. Yet, it's a vital food source for millions of people and a center of ancient lore and mystery.

And today the mystery of this river is magnified. Smoke from primitive swidden (slash-and-burn) agriculture hangs over most of the country in the dry season and visibility is a half a kilometre at best. Huge sandy beaches expose the occasional wrecked barge. The air is hot and dry, and river water is splashed to keep cool. The overall effect is neither primitive nor primeval - it's simply out of this world.

As dusk falls we pull into Pakbeng, a town of 400 houses scattered high across a cliff overlooking the Mekong. The place is rustic and has a just-thrown-together feel to it. A night-time journey up the town's only street brings us to a collection of shifty looking shanties where youngsters wearing Gucci T-shirts offer us the Golden Triangle's finest.

The next morning finds us chugging towards the Thai border on the last leg of our journey. It's that final time of a getaway when you try to get in as much of the experience as you can. To all of us it seems as though the sun shines brighter and the river throws up even cooler winds than the day before.

The Chiang Khong-Huay Xai border crossing is a stark reminder of the differences between Thailand and Laos. A small town by Thai standards, Chiang Khong resonates with the sound of petrol engines and uptight border guards. Huay Xai, one of Laos' major river settlements, is unassuming and ready to doze off at any moment. And between them is Southeast Asia's river that is both divider and common denominator: the Mekong.
E-mail Dennis Duncan: dpdunkan@yahoo.com
---
FINIS