THE MAN WITH THE CONCRETE TOUCH
by

---
One might be excused for comparing Bob Kevorkian to Jayavarman VII, the great Khmer king who presided over the most frenzied building period at Angkor Wat. You see, during the middle part of this decade Mr Kevorkian oversaw the building program conducted by the ubiquitous Philipp Holzmann Construction Company which basically overtook the Bangkok skyline.
But in the last quarter of 96, having completed his four-year contract with Holzmann, Bob decided to move on. Actually, he just moved upstairs as on 1 Feb 97 he established, along with a Thai shareholder, his own company called K-Tech Construction and Engineering on the 28th floor of the Lake Rajada Office Complex with Bt150m million registered capital.
Bob is also the Honorary Consul for the country of Armenia here in Thailand. He has been married to his wife Lisa for thirty-seven years. The couple has four children: two boys and two girls. The boys, Dominic and Gregoire are both lawyers working in Bangkok. The girls, Gina and Lisa, reside in the UK, where Gina works as a clinical psychologist and Lisa as a sound engineer.
Bob is a civil engineer by trade whom started in the construction business by practicing foundation technology and that's where he has spent most of his career. He started out working for a number of major companies in England and then he joined Bauer International back in 1977 as their overseas director. Bauer is the world's foremost construction firm when it comes to foundations. When Bob joined Bauer it only had only one project overseas (in Saudi Arabia) but he soon expanded their operations to include twenty more branches including offices in Bahrain, Egypt, Kuwait and Iraq.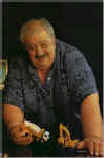 Kevorkian set-up a Middle East Division for Bauer, which basically went from being a modest operation to being a business with a turnover in excess of US$150 billion. In 1986, Bauer under Bob's management did most of the foundations for the 25-km Bahrain Causeway, which links Saudi Arabia to Bahrain. It is one of the landmark projects of the Middle East and consists of seven bridges and five manmade islands.
In 1986, Bob decided he wanted to explore new horizons, so he came to Singapore and established Bauer in the Far East, much the same way he had in the Middle East. After about eighteen months of consolidated effort Bauer finally secured projects in Hong Kong, Taiwan and Australia and soon afterwards became established as one of the premier construction companies in Asia.
In 1989, Bob saw a huge market emerging in Thailand and he suggested to Bauer that they should open up an active office here and look for a Thai partner who was eager to enter the foundation business in Thailand. Bauer and President Park Group were prepared to invest significant monies in the new Thai company but only if Kevorkian agreed to be the Managing Director of the venture for at least two years. Thai Bauer quickly became known for its quality, technology and the innovation of the equipment it brought to the marketplace.
In January of 1993, Bob was named Managing Director of Philipp Holzmann (Thailand) Ltd, a division of Philipp Holzmann AG of Frankfurt. When he took over the company it wasn't in terrific shape. But he quickly turned it around and in four years the company went from being a firm of around 500 employees with a US$24 million turnover to a firm that had 11,000 employees and a US$250 million turnover with a US$800 million backlog.
Kevorkian also established the company's first vocational training school. The program was operated in conjunction with the Thai Ministry of Labor and the German Government's Dual Vocational Training Program. The program trains 200 apprentices at a time to be skilled middle management employees. "There are good engineers and laborers in Thailand but not many good foremen. No sergeant majors" Bob says, "My school was designed to develop foremen."
At the zenith of its success, Holzmann had projects going up all over Bangkok. The company's signs were omnipresent and seemed to appear on every major construction site in the Big Mango. Its accomplishments were unprecedented in a city as large as Bangkok. You simply couldn't go anywhere without seeing a Holzmann sign. "I knew that Holzmann was a good product with good technology and good know-how but we had to apply it in Thailand in a Thai way. That meant being non-confrontational." says Bob. "We delivered jobs on time, our quality was good, management cared, we had good teamwork, people were proud to work for the company and people used to even advertise their own companies by saying, `built by Holzmann.'"
When Bob left Holzmann on 31 Jan 97, he opened up K-Tech the very next day. He still remains Chairman of Thai Bauer (a position he was appointed to in 1992). His new firm has over 100 staff and engineers and 1,500 workers. The core of K-Tech is made up of people that worked for Bob at Holzmann. Indeed, many followed him to K-Tech right from Philipp Holzmann, so he calls his firm "a company of volunteers."
In 1997, K-Tech's first year, the firm had a small loss due to lack of projects. But in 1998, K-Tech had a turnover of Bt600 million (Holzmann had a Bt450 million turnover after its first three years), with a profit of Bt30 million which is remarkable considering the economic turmoil that plagued the country. K-Tech is not as visible in Bangkok because of the recession and as most of its work is currently being completed down south in Had Yai, but it does expect to make its mark in Bangkok as soon as the market turns.
Bob says that the economic crisis was a blessing in disguise for his company because as market liquidity was tight and funding difficult to secure, K-Tech found itself in a unique position three years later - it's debt free. It's a cash managed company, which is careful to make sure that its customers can pay, and that it can pay its subcontractors and suppliers.
Bob recalls, "Within a few months of starting K-Tech, Thailand was hit by the economic crisis. We were expecting a slow down of our projects so we aimed to find a niche by providing reliability and quality to our clients and contracts that were completed on-time and on-budget. The economic collapse, however, resulted in a significant reduction in available projects, no one was spending any money and there was a total lack of confidence from the banks towards construction companies."
So in 1997, K-Tech's first year, the firm had a loss of Bt17 million due to lack of projects and start-up costs. The next year, however, K-Tech made a remarkable recovery and had a turnover of Bt600 million with a profit of Bt22 million. It also continued to operate within the parameters of its own funds which was remarkable considering the economic turmoil that plagued the country and it was able to purchase equipment worth Bt100 million as well.
Fortunes started to turn for K-Tech when it landed a contract in Had Yai with a major American corporation to design and construct an industrial factory of 30,000 sq. m. The client is a worldwide leader in the manufacture of latex gloves. "But with the depreciation of the baht our client decided to take advantage of the situation and expand the plant to 100,000 sq.m" notes Bob.
"We have had to employ prudent cash management though because of the negative attitude of the banks, but luckily we were able to finance our projects with in-house funds. And we were recently awarded a third contract in Had Yai to construct another 25,000 sq.m. building which will be a condom company for the same client."
K-Tech is also working with ABB and ABB-Sadelmi to build transmission lines and sub-stations here in Thailand. The company has created a Mechanical and Electrical Department, which is either working on, or has completed, twenty projects in the last eighteen months. Due to the financial situation, a lot of companies rather than proceeding with expansion are renovating their existing works and buildings. K-Tech has a who's who of clients including Zullig, the World Bank, Hutton & Williams, Sheraton and the Ford Motor Company.
As part of a consortium spearheaded by the Italian industrial giant Ansaldo, K-Tech is bidding on a Bt700 million power plant in Hongsa, Laos, which is about 40m km inside the Laotian border from Thailand. And K-Tech is also in a joint venture with Bouygues, the French construction giant in a bid to build a forty-four-storey building in downtown Bangkok.
Also in tandem with a Thai construction company, K-Tech is bidding for a major government housing project in Columbo, Sri Lanka. And other projects are also being considered in the Philippines, Burma and Taiwan.
Bob has lived in twenty-seven countries and he says he has never lived anywhere like Thailand. "It has its peculiarities but its pluses far outweigh the minuses here. Most countries welcome a foreigner but nobody makes you feel welcome all the time the way the Thais do. You really feel you are welcome here. There is never a closed door, the most unbelievable thing can happen. The most negative thing can be turned into a positive by discussion and compromise because no one party wants to offend the other. Nobody particularly wins but everyone comes up with something."
Looking back on the economic downturn, Bob says, "Greed and easy money caused the recession. Banks lent money based on who you were and what they knew of you, rather than what your project stood for. Feasibility studies were not properly conducted. But very few foreigner investors lost money during this recession. Most foreigners, when they prepare an investment plan do a proper feasibility study: is their product wanted, does the market need it, how much does it cost etc. Then they can borrow the money and start their businesses."
Bob says he hopes that K-Tech will be one of the top ten companies in Thailand within the next five years. He says there isn't a magic potion for success - just hard work, lots and lots of hard work. And with Bob's work ethic there is no reason to doubt that his hope will come true.
Bob can be reached c/o:
K-Tech
28th Floor, Lake Rajada Office Complex
193/117 Ratchadapisek Rd
Klong Toey, Bangkok
Thailand 10110
Tel: (662) 264-0669
Fax: (662) 264-0678
E-mail: KTECH@mozart.inet.co.th
---
Finis