WWW.MOVIESEER.COM
by


---
Just go there, it's that simple. Click on www.movieseer.com and you'll find a well-designed site that's not too cluttered, that is full of interesting information on movies and movie stars and which is constantly being changed and updated.
It is the largest and most comprehensive bilingual movie portal in Thailand. Its showtime listings service includes over 28 provinces with 70 listed theaters throughout Thailand and over 300 screens nationwide. In addition, MovieSeer has recently branched out to cover Malaysian films, and in January launched a comprehensive DVD section. MovieSeer's cutting edge information generates excitement, while its programming allows for easy, fast and entertaining navigation of its website.
One of the best things Movieseer has going is its reviewers: they're funny, irreverent and write very well. Case in point is George Kaltsounakis, a freelance writer from Canada whose bio reads thus: "George has spent a number of years studying film in Montreal and Toronto, to absolutely no avail. He enjoys naps and is nothing if not laconic. He understands if you don't agree with any of his opinions."
Another is American Wesley Hsu, whose bio ends with: "Wesley has worked in a Hollywood agency, for the US Peace Corps and as a film reviewer for a community website and has been summarily fired from all three. His proudest achievements in Bangkok have been creating and hosting a poetry reading and meeting Bernard Trink at a picnic and telling him his film reviews were offensively bad. Trink agreed."
Noted writer and editor William Zinseer once wrote, "Critics should like - or, better still, love - the medium they are reviewing. If you think movies are dumb, don't write about them. The reader deserves a movie buff who will bring along a reservoir of knowledge, passion and prejudice." MovieSeer's critics fit the bill. And true to its bilingual mandate, there are Thai reviews as well as ones written in English.
The site also has film summaries; weekly actor spotlights, highlighting a new actor or actress currently, or soon, appearing in a film in the region every week; front page news pertaining to the film industry, with an emphasis on Thailand; spotlights on classic movies called Classic Rewind; features on eminent directors, past and present; gossip and news sections keeping visitors up-to-date of the goings-on in Hollywood and beyond; and the site also contains quizzes and contests, a chat room and game zone.
Movieseer's founder, Roy Chapin IV, came up with the idea after being continually frustrated in his attempt to get information on movie showtimes in Thailand.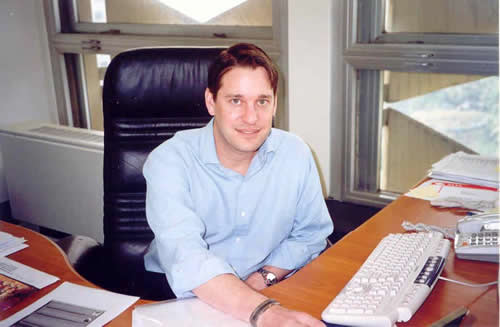 Roy came to Thailand five years ago as an exchange student from the University of California at Santa Cruz doing a year abroad. He lived with a Thai family and studied at Chiang Mai University.
| | |
| --- | --- |
| | After completing his studies, he stayed in Thailand and was hired by the travel company of Abercrombie & Kent, which specializes in high-end exclusive travel around the world. Their main area of focus is safaris in Africa, but while Roy was working for the company they posted him to Hong Kong where he handled excursions to mainland China, central Asia and the Silk Road. Then when he was sent back to the Bangkok office, he was responsible for trips in South-East Asia, particularly Indochina. When the Asian economic crisis hit, the company downsized and Roy found himself out of work. |
So he then went back to Chiang Mai and three years ago formed Visual Horizons, a company specializing in graphic design, programming and compiling databases. While there, he also came up with the idea of movieseer.com, the entertainment portal. A year-and-a-half later the firm moved to Bangkok since most of its clients were here and it was costing too much money to keep sending people down to Bangkok to take care of them. Scott Murray recently caught up with him and he was kind enough to fill us in on Movieseer and its operations.
How do you keep on top of the constantly changing movie showtimes? "We are in constant contact with all the theaters, and we are adamant that they e-mail us as soon as they effect changes in their listings. Major Cineplex, for example, by rule, changes their showtimes on a day-to-day basis to maximize viewing times, so they give us new information every day."
What about theaters upcountry? "The cinemas in smaller cities are run by larger theater companies, based outside of Bangkok, and they send us information for all their theaters."
Who inputs the data for you? "We have data inputting staff working for us. It's time consuming work, but we have found that it's better to do it ourselves than copying and pasting because this method gives people the ability to find information on different levels. They can search by city, theater, or specific film."
How are people finding out about you? "The hardest challenge we face is getting outside exposure. People know us in Bangkok, Chiang Mai, Pattaya and Phuket, but in other places it's mostly through word of mouth, though we do get put up on a lot of message boards. Wesley Hsu did a review of the epic Thai film Suriyothai that got a lot of national and international exposure. In fact, many of our Asian content reviews have been picked up in the US, because no one's writing about them Stateside. A great example is the review for the recent Thai film Jan Dara, by Tammy Stone, which continues to get a lot of hits. We also have had a number of Yahoo selected reviews, including for the Korean film Bichunmoo, done by Wesley."
Why don't you use more banner or button ads? "When we started I didn't believe in banner or button ads. I thought that they weren't viable, and a waste of time to the user, because they take so long to download. So we have never really used them, or made the effort to do so, and as a result we have very limited on-line advertising. Most of our revenue is not directly related to what's on the site. We resell our content to a number of other websites, both locally and worldwide. We supply one of the theaters with content, which we can do for them quickly and efficiently with our accumulated information. We are getting into DVDs now though and that's one of the few places we do have ads in order to make more people aware of the DVD market, so that it will grow in Thailand. There are only about 150,000 DVD players here, so there's a huge potential for growth. I'm really excited about our foray into DVDs."
What about your personal motivation for doing this, did you ever want to be an actor or a director? "No, but I have always loved film. It runs in the family, my sister is head of the Film Department at Dartmouth University. And I lived in L.A. for two years where I was exposed to the film industry and did set design. I really appreciate and enjoy the many facets of the film industry."
Are you obsessed with film and movies? "I wouldn't say I'm obsessed, because in having a business like this you have to be very careful, if its your obsession it won't be a good business. You will run the risk of caring too much for it and you won't be able to manage it properly, or know when to pull back. I really love it, but I know the boundaries of good business as well."
Any favorite films? "Everything from the Coen Brothers, like Raising Arizona and Fargo, to Scorsese the great oldies, like The Sound of Music. And of course Thai films, which I go out to see as much as I can. Unfortunately many of them aren't subtitled for their first runs here."
What about the limited range of films available in Thailand? "I wouldn't say it's all that limited, relative to what it could be. But this is really up to the distributors here, like UIP, which brings in Universal films; Warner; Fox; and Buena Vista, which brings in Disney's movies. They all bring in mainstream films, because they sell. I think we need to get boutique distributors to bring in more avant-garde films. The fact is that a certain type of film does well here: shoot 'em ups, high action, adventure, really out there stuff like that. So it's hard for them to break out of that mold and say, `Well, why don't we do something different, why don't we try a more artistic style, or a different type of film with a little bit wider reach.'"
Why is there so much overkill with these blockbusters like Harry Potter, Pearl Harbor and The Lord of the Rings, which get shown in so many theaters? "Because they're popular here, and they sell. I mean, there were whole stores in malls here that sold Harry Potter paraphernalia, so obviously there's a market for it. A lot of this also depends upon the deals the theaters have arranged with the distributors, some of which will demand that they run these shows for two weeks on say seven of their screens. And the distributors in turn depend on what the studios give them. But the theaters do want to maximize the film of the moment, because they know that in the beginning, there is going to be a big surge to see these films, so they will try and accommodate that. And those big movies do get a lot of advertising. And so it does become increasingly different to see other films when these blockbusters come out, but not impossible."
Can people write reviews for you? "They can certainly inform us of their interest, and we can proceed from there. Whoever's interested can contact our editor Tammy Stone, at: tammy@movieseer.com. Tammy, by the way, is a Canadian, most recently from Toronto, who's working on her Masters of film and writes some of our reviews as well. We're always looking for eager movie reviewers with knowledge of film to send out to do both movie and DVD reviews. And we are more than happy to get Thais as well as foreigners."
Can you tell us about your portal in Malaysia? "We set up the Malaysian site a few months ago because we wanted to expand into other areas, but we wanted to do it cost effectively, and build up slowly, so it was purely a business decision. We wanted to stay in the pocket of South-East Asia, close to Thailand because that's our primary market, and a lot of the films that come to Thailand also go to Malaysia and Singapore. They are all on the same circuit. This means we can use the content we developed for the Thai site.
"We did a lot of research on Malaysian movie sites and most of them are in English. The theaters and distributors sent us the content and show times directly. We have to dig a little deeper with the Malay and Hindi films, but we've been doing pretty well."
What's next? "We are thinking of expanding to Singapore. That's the same type of business decision, its close by, and the city shows the same films with the same style. We also look at demographics; Singapore has a lot of visitors, the type of people who visit our site. Then maybe we'll head to Manila, because the Filipinos are crazy about films, and then probably Jakarta. We're focusing on our DVD section pretty heavily too right now, and will soon be expanding into the sell-through market."
You've had some success with your WAP site? "We worked with Ericsson in developing it and the good thing about it is it practically runs itself once the initial framework is established. It's become very popular in the last few months, because there's an increasing demand for accessing showtimes on mobile phones. So people are using it the way it is supposed to be used, which is not to read four pages of a review, but to get a quick idea of what's playing, where, and at what time. For the more detailed information, there's always movieseer.com!"
What about using GPRS? "GPRS is much quicker because it's always on, you don't have to dial in and connect to the server like to you do with WAP. You just click on to your bookmark and it shows right up. The only problem is that here in Thailand, it takes a while for that kind of technology to come in and be widely used as people don't upgrade their phones as quickly as they do in say Hong Kong or Singapore. Right now SMS is so popular because every one who has a mobile phone can use it."
What other high-tech gadgets should we be on the watch for? "The new phones to look out for are the Ericsson T65 and T68 with color screens, and the new Nokia with a color camera, where you can snap photos and send them to people. Also 'imode', or 'DoCoMo', in Japan, which has color screens where you can download trailers of movies in four seconds."
Please tell us about your work with John Stevens and the Best in Bangkok on the Joy Luck lottery? "I met John Stevens through a mutual friend of ours last year. It turns out that our companies had a lot synergy, with both of us being in the Internet business. When he told me his idea about the Joy Luck online lottery, I thought it was fantastic idea and wanted my company to be associated with it. As it turns, we do the filming for the lucky draw every Friday. We shoot the draw on a digital camera and then transfer it to the web so all viewers can view the live draw. This is, we feel, a great way to add great credibility to the weekly draw."
Contact Info
Tel: (662) 633-8600
Fax: (662) 633-8614
Website: www.MovieSeer.com
Wap: wap.movieseer.com
Email: information@movieseer.com
---
FINIS
| | | |
| --- | --- | --- |
| Page Head | | Index Page |