"OFT-IMITATED AND NEVER EQUALED"
by


---
Or so says Joe Cummings and the folks at Lonely Planet in describing Nancy Chandler's colorful maps. If you've

been in Thailand for any length of time, you must have seen them. But, what's the story behind this beautiful

cartography and how the designer ended in Bangkok?

Nancy and her ex-husband Al Chandler met in 1957 while doing undergrads at U-Cal Berkeley, Nancy was

studying art history and Al mining engineering before he moved on to Harvard to study law after two years in the

US Navy (Today, Al is one of the few farangs with a lifetime license to provide legal services in Thailand).
A number of Al's classmates in law school had found work through an Asia-Africa Fellowship program, sponsored

by the Ford Foundation and administered by Syracuse University. It sent them to Africa where they filled positions

of former British expatriates e.g. supervising court systems, managing game parks, teaching etc. They kept

sending back postcards, which encouraged the Chandlers to sign up for the program as well. The Chandlers were to

be sent to Lahore, Pakistan, but as luck would have it, an opening arose in Kathmandu with the Nepalese Bureau of

Mines and that's where they ended up in 1966.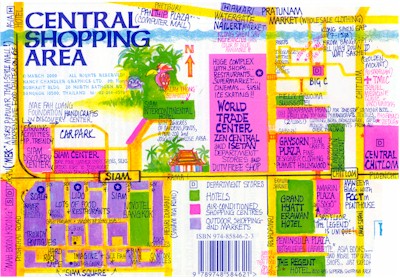 On the way to Nepal, all of Nancy's art supplies mysteriously disappeared, so she had to turn to the local markets

for supplies. This is where she discovered the bright hues of puja powder, which is used for tica markings, and also

where she developed an interest in handmade paper. It's also how she picked up her love for bright colors. Just

before Al's tenure with the Fellowship was up, Nancy discovered she was pregnant, and the couple decided that

Nancy should stay and give birth to their first daughter, Nima (which means Sunday in the Sherpa language) in

Kathmandu. She did and since the couple needed money, Nancy started to sell her sketches of Nepalese

characters and the Himalayan scenery to expatriates and in hotels and shops in Kathmandu.

The Chandlers decided to leave Nepal in February of 1968 and traveled via Delhi to visit friends and game parks in

Kenya, Tanzania and Uganda. After that, they made their way stateside via Asia, including stops in Thailand,

Cambodia, Indonesia, Hong Kong and Japan. Upon returning to the US three months later, they lived in

Washington for one year. After a while they started toying with the idea of moving to San Francisco. Then one of Al

Chandler's law school classmates called to tell him that Kirkwood & Associates, a small law firm with a branch in

Saigon, was looking for a lawyer for their growing Bangkok office.

They arrived here in June of 1969, and Nancy soon found mostly volunteer work for a number of publications

including Sawaddi, the American Women's Club magazine (not Thai International's Sawasdee), Living in Thailand

and the Bangkok World. She jokes that she was "sketching illustrations to meet the Sawaddi deadline between

contractions of her second daughter, Siri."
In May of 1974, Nancy Chandler Graphics was born and the first edition of Nancy Chandler's Map of Bangkok was published. Then in 1981, Nancy Chandler's Map of Chiang Mai followed, both inspired by illustrations originally commissioned by Sawaddi. The summer of 1987,

Nancy moved back to Mill Valley, California where she established a sister company to distribute maps to wholesalers in the US, sell handmade saa paper to artists in the local community, and offer a variety of graphic design services.

But want about the maps themselves, how did they come about? Nancy says, "I never even thought of doing a map

of Bangkok until the editor of Sawaddi asked me back in 1974 to simply redraw a tiny old map (about 3" x 4")

pinpointing the markets in Bangkok. It was to accompany an article being updated and revised about 'The Markets

of Bangkok.' The magazine was produced completely by volunteers and I was one of their illustrators. I had only

been in Thailand for a few years and hadn't explored much as I had been very busy with my two tiny daughters.
Once I started to explore Chinatown with the two women working on the article, I began to get very excited by all

the things one could buy down there as well as the temples and the little noodle shops for refreshments, which we

went to when the 'research' became too tiring and we needed a break. I thought we should perhaps expand the

original map a bit and add a detail of Chinatown.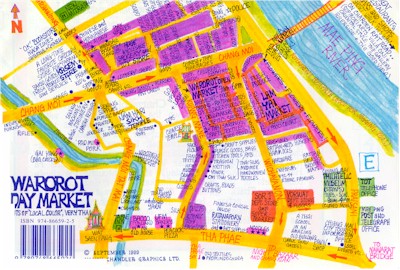 "Then we moved on to 'research' the Weekend Market, held at Sanam Luang in those days. Again, I found it to be

so colorful and full of many Thai textiles, handicrafts, hardware, produce, food, etc. There seemed to be no logical

organization to the layout of the market. When I suggested expanding our map of that area into a larger detail, we

did attempt to give some kind of order to the overall picture. Soon the tiny map became the centerfold of that

May-June 1974 issue --much more than just dots to show where the markets were. I was not trained as a

cartographer but simply looked at several basic maps and took the best bits from each as there didn't seem to be

any one really accurate map."

So how long did it take to get off the ground?
"That first map was done in about a month, because of the magazine's

deadline, but I didn't even know how to prepare the artwork properly in 1974. I didn't know you should separate the

line artwork (the lettering) from the half tones (the drawings and colors). My letters came out quite blurry as they

too were broken up into the 'dot pattern.' There were many blank spaces on that first map. By 1976, or so, I had

had enough feedback from the farangs in the community to learn they really liked the idea of the map. I switched to

another printer and began to publish it on my own. I learned how to prepare the artwork more professionally from

that printer and I am still using him to this day. During the first few years, I didn't revise it annually- partly because

there were not that many changes going on but now, we do revise it every year. It is in the twentieth edition for this

year, 2000 and there is hardly a blank space on the entire map because it is so much more full of information. It has

been fascinating to watch the changes in Bangkok during these twenty-six years."
Nima Chandler, now runs the family business. She took over the company in 1997, but only if her mother would let

her run the show. Does Nima have any plans for any new maps? "I was interested in doing Phuket," she says,

"until I helped my mother update the Chiang Mai map and found out how long it took," she says. "We update

every year, but it takes a full two months just on research, and we can't afford to hire someone to do it full-time.

We also don't want to dilute the product, we think we have exceptional maps of Bangkok and Chiang Mai and we

do the best research we can. We have had people who have asked to do 'Nancy style' maps and a lot of people who

haven't asked. There is a Singapore Discovery Map, which we later found out was designed and developed by two

of my father's clients, who picked up my mother's map one day in his office and said what a great idea. It was a

great map, but they never updated it. In Nepal, two women approached my mother about doing a map, and she even

went up there to advise them on how to do it right, but then they did one independently and never updated the map

either. In Burma, the same thing. We are happy to help people as long as they say on the map 'Inspired by Nancy

Chandler's Guide of Bangkok and Chiang Mai.' We will even give them guidelines, tell them what goes on, what

doesn't, and why we don't take advertising.

No advertising? ' Yes, the original was an illustration for a magazine showing people what the highlights of the

market were. It's developed from that into what I call a 'neighborhood map' - the kind of map you'd draw for a

friend coming to visit to say 'Here's this great little shop, there's that secret little restaurant you might want to

take your date to, and you must walk through this wat sometime.' It's a hand-drawn guest-room map. The concept

behind that it is very clear, it's what you would tell a friend to go see and do. When you start getting advertisers,

you compromise some of that as you leave out their competitors. There are some great maps of Bangkok out there

but for example, if they have a Central Department advertisement that means that they can't include other

department stores, so you end up leaving important things out.

"Last time I was in Phuket, within an hour of getting off the plane, I had six maps in my hand. Four of them were a

waste of paper, they were only advertising and hotels. Only two of them included things of interest as well. The

funny is that because our maps are so colorful, we actually had someone write us once and say the advertising all

over our map was really tacky, but there is no advertising. Nancy doesn't even take a free meal when she goes to

research a restaurant."

So what goes on the map? "Does a shop sell something unique, does it sell quality goods, does it sell something we

could imagine ourselves looking for? The things that don't go on are tailors, travel agencies, and things that are

very competitive or also have a high rate of changing service standards. Not everything on the map is

recommended, but basically Nancy's checked them out, if they are on the map they are either pretty good or a

great landmark," Nima says.
Nancy's maps used to make up about eighty percent of the company's business, but they only account for about

forty percent of the revenue now, even though map sales volume is up approximately two hundred percent with

cards and items such as gift tags, gift wrap, matted prints, placecards, bridge tallies, bookmarks – all with a Thai

theme – accounting for the rest.

Part of the reason Nancy moved back to the US was so her youngest daughter, Kim Malee, a talented artist and

Special Olympics athlete, could obtain a better education through `mainstreaming' programs for children with

downs syndrome in the California school system.
Her second daughter, Siri, is probably the first International School of Bangkok (ISB) graduate who has returned

as a full-time overseas hire. She teaches kindergarten at the school. Before that, she spent quite a few years at the

Early Learning Center, and then she helped to set up the kindergarten at International School of the Eastern

Seaboard (ISE), before accepting a job in Cochabamba, Bolivia. But during her year there, she'd traveled most of

South America and realized she missed Thailand, causing her to jump on a plane to head back home to Thailand.

At 62, Nancy shows no signs of letting up and her Bangkok based company is in Nima's oh so capable hands. She

probably owes a lot of her inspiration to her father, Maurice Sands, who was a prominent architect and interior

designer in San Francisco. But whatever Nancy's motivation, her maps have helped so many people make sense of

the chaos of Bangkok and Chiang Mai's crowded streets and sois.

And just so we don't forget Al, one of his tasks was that through his firm, Chandler and Thong-ek , he spent twenty

years working for the Nepalese government, writing their petroleum law in an attempt to attract international oil

companies to drill through the Himalayas looking for oil (that's what paid for Nima's university education.)

Wrapping up, it's obvious that the Chandlers are, by any yardstick you would care to use, quite an accomplished

and artistic family. And don't leave home without a Chandler.

Contact Info:

NCG Marketing Co., Ltd.


Bubhajit Building, 8th Floor


20 North Sathorn Rd


Bangkok, 10500

Tel/Fax: (662) 266-6579

E-Mail: nancychandler@yahoo.com

Website:www.nancychandler.net
---
Finis