THE PENINSULA LIVES UP TO ITS NAME
By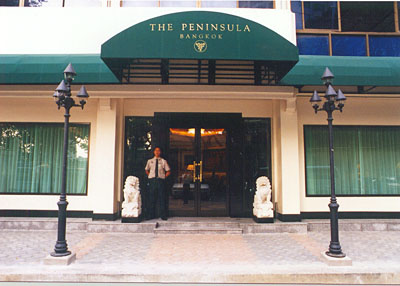 It's hard being part of the Peninsula hotel chain, because given the high standards of excellence the chain has already established there is no place to go but down. But I'm happy to report that the recently opened Peninsula Bangkok (19 Nov 98) lives up to its famous billing.
The Peninsula Bangkok is a self-contained oasis in a concrete jungle. You won't have to leave once you check in, as the hotel can meet your every need. As General Manager Heinz Waldvogel says, "Our private lounge, pier and river shuttle, the only combined facility of this nature in Bangkok, gives resident guests or casual visitors to the hotel options which will maximize their time and minimize their inconvenience. It doesn't matter from which side of the city you are traveling, we have made accessibility simple and direct."
And once you arrive, well, with a staff to guest ratio of 2.5 to 1, you just know that all your needs are going to be tended to, don't you? Suppose you need to catch up on your work? The Peninsula's Business Center can take care of all your office needs. Need to relieve some stress? The hotel's Fitness Center with its accompanying sauna, steamroom, jacuzzi, massage facilities and state-of-the-art exercise equipment will have you feeling like new in no time. And if you are still restless, you can burn off some more calories by playing tennis on the floodlit courts or doing some laps in the three-tier sixty-meter swimming pool, which is tastefully adorned with Thai salas and posh sundeck areas.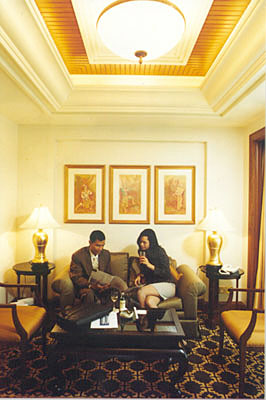 Relax, unwind, and rejuvenate yourself. The Peninsula allows you to take care of yourself, and re-charge your batteries. And if you are in need of a haircut and a hairdo you can check out Bangkok's premier name in hair and beauty, Salon Best.
In the daytime, just look out your window and see the ebb and flow of humanity pass belong you on the teeming Chao Phraya River. You don't even need TV with the spectacular views the Peninsula offers of the barges, speedboats, traffic, architecture, and people all darting to and fro.
At night, turn off the lights and soak up the sounds of silence. You are in the core of the city, yet apart from it. Your unique perspective from the western side of the river allows you to view Krungthep in a way you never could do if you where staying in one of the leading Bangkok hotels across the way.
You have a sense that Q must have resigned from the British Secret Service, and gone to work with the Peninsula hotel chain. The Peninsula simply has more electronic gadgetry than any other major hotel, calling it "guest comfort technology." It starts with a custom designed bedside electronic control panel that allows guests to control temperature, lighting, audio-visual systems and even the curtains with the touch of a fingertip.
But la creme de la resistance is in the bathroom. There is a TV located right in the bathtub, along with a speakerphone, so you can watch and soak, and squawk and soak. The system has an automatic mute function on both the TV and radio, which kicks in for the duration of your phone call and this digitally filters the sound of running water and the bathroom echo as well. Amazing Thailand, right?
Fine dining? Well, the Peninsula's tough to beat. Mei Jiang specializes in classic Cantonese cuisine in a unique setting reminiscent of an exquisite "Teak Box," with walls of sliding lattice panels opening to reveal a tranquil pool.
Cilantro is a casual all-day restaurant featuring Thai and Asian specialties, an international buffet and barbecue along the riverside.
And be prepared to be fused. As that's what happens when you enter Jester's, the hotel's avant-garde restaurant serving Pacific Rim cuisine in a fashionable and relaxed atmosphere which allows you to enjoy entertainment from world class musicians while you dine.
Specialty chef Ms. Stephanie L. Rowe prepares the dishes. They range from farmed sea bass and Queensland scallops with braised fennel and soused beets to broiled California beef tenderloin, green peppered tempura vegetables and black bean jus. Or why not try miso crusted yellow fin tuna on whipped seafood mash with roast bell pepper and onion crisps, or even escalopes of Phuket lobster with grilled watermelon and carmelized chili?
And lest we forget what the Peninsula is famous for, why not catch high tea in the Lobby Restaurant, which also offers a wide range of cuisine, catering to every palate.
The hotel has 370 rooms, including 60 one bedroom suites and five deluxe suites: the Deluxe, Duplex, Grande Deluxe, Thai and the Presidential Suite which is designed to CIA specifications, yes CIA specifications, and goes for US$2,600 a night. With a built-in gym, kitchen, and just about everything else, it won't let you down and I'm sure Hillary, Bill and Chelsea would be very impressed. The Duplex Suite has a built-in Jacuzzi on the second floor.
Do yourself a favor, treat yourself to a luxury that is very rarely found on this planet - stay at the Peninsula.
FAST FACTS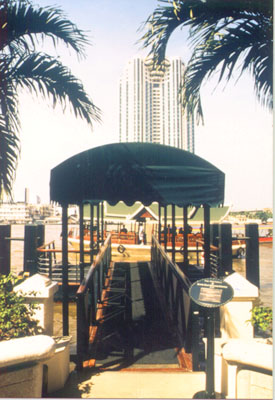 The Peninsula boat service runs to and from the Peninsula pier, the Oriental public pier, and the River City Complex from 6am to midnight (6am to 1pm on Fridays & Saturdays). There is also a boat service that runs between River City and the hotel from 9am and 10pm.
This hotel is managed by the Peninsula group and owned by Siam Chaophraya Holdings Company Limited, a joint venture between the Phatara-Euromill Group of Thailand and the Hong Kong and Shanghai Hotels Limited, the parent company of the Peninsula Group. Brennan Beer Gorman International New York Concept Design) and Henry H. Brennan were the architects, and Denton Corker Marshall Limited of New York did the interior design.
There are eight Peninsulas in the world: The Peninsula Hong Kong; the Cowling Hong Kong; the Peninsula Manila; the Palace Hotel Beijing; the Peninsula New York; the Peninsula Beverly Hills; the Quail Lodge & Golf Club in Carmel, California; the Repulse Bay in Hong Kong and the Peninsula Bangkok.
For more information:
Tel: (662) 861-2888
Fax: (662) 861-1112
E-mail: pbk@peninsula.com
Website: www.peninsula.com
---
FINIS