Postcards from the Edge
Canadian Photojournalist Steve Sandford
interview by

---
"The festivals in Thailand are a great escape from the

hardships of reality and they're a little more

interesting than the Santa Claus parades back in

Edmonton," says Steve Sandford with a touch of sarcasm

directed at his native Canada.

For the past two years, he has chosen to call South-

East Asia home. Sandford gave up on the daily grind of

newspaper work in Edmonton, sold his house, and re-

located to the region, entering the topsy turvy world

of freelance photojournalism.

While he's remains proud of his prairie roots in

Medicine Hat, Alberta, he hasn't looked back since. "I

came over here for a change of pace, and hopefully, to

take a few pictures that might make a difference in the

world," Sandford says.

So far, his camera has captured Suharto's downfall, the

sex trade in Cambodia, and the plight of street kids in

Thailand and the Karen refugees in Burma for

publications like Time, Asiaweek, and the South China

Morning Post.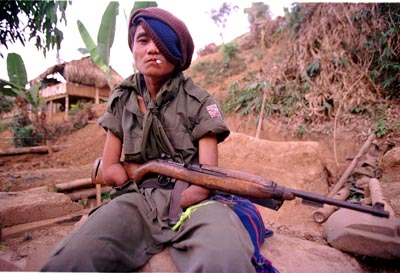 But his work is not all doom and gloom; he has also

composed colorful portraits of the unique and

spectacular events celebrated across the region such as

the Phuket Vegetarian and Phi ta Kon (ghost) festivals.

His recent solo exhibition, "The Eastern Edge," reveals

a South-East Asia that is as kaleidoscopic as it is

sometimes volatile.

The exhibition was a display at The Space, a new gallery in Bangkok showcasing local and international artists, which the owner sees as a refuge for artists. Sandford donated part of the exhibition's proceeds to the Agape AIDS Baby Home in Chiang Mai and the Mercy Center in Bangkok, an inner-city refuge for street children.

"When I did the Agape story, it was tough on my

emotions," he says. "I have a daughter, Rhandi, in

Canada and the time that I spent at the orphanage

drained me. I'm happy the story ran in Canada and

Australia and increased awareness of the difficulty and

hardships that these children face." (Thomas Brecelic;

The Space Gallery)
Q & A with Steve
Why did u get into the biz?
I worked in the oil patch for years. One day as I was covered head

to toe in grease, I decided to go back to school and be a writer.

While there, I realized that pics are sometimes stronger then

words. You can hear about an incident but without the pics,

sometimes it don't hit home. I would probably have a lot of

writers disagree with me though.
Influences?
Life magazine has always been an inspiration;

National Geographic, too. It would be great to

get a gig with them: A dream to be able to have

the time and expenses to get immersed in the

job.
Why base in BKK?
Good access to most parts of South-East Asia.

Bangkok is an interesting town: it never sleeps.

It's unsanitized but interesting.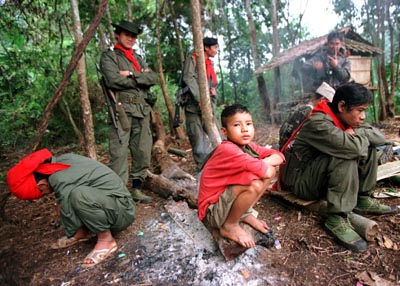 Which photographer do u admire & why?
James Natchway is great shooter. I met him in

Jakarta. Very focused. It seemed like he was

always in the right position at the right time.
Best shot u took?
Probably one of my favorites would be the

moments after Suharto resigned in May 1998. The

emotion a few students showed following the

announcement was very emotional for me. I had

only spent about 4 months there but the feeling

of victory was felt.
Best shot someone else took?
The shot of the Vietnamese girl, Pham Thi Kim

Phuc, who was burnt by napalm sticks out. It was

taken by Vietnamese photographer Nick Ut for the

Associated Press.
When will u know if you've "made it" as a photo-journalist?
Some of the work I have done with the Karen National Liberation

Army has received international attention. I guess making people

aware of a problem as a result of work that I have published would

be my biggest goal.
Scarist event you've covered?
The May 13 riots in Jakarta. Running through the

streets with hoards of rioters being chased by

the police was very surreal. I was swearing and

cussing at the rioters and they just laughed. A

real adrenalin rush.
Funniest?
Four days before the Jakarta riots, I was

covering the riots in Sumatra. I was riding

around with an Indonesian taxi driver and I told

him it was my birthday. The old guy grinned and

put a techno rock tape into his cassette deck.

Things got rocking. Wacky stuff.
What do u hate about the job?
Probably chasing down the invoices from

unprofessional editors after they have been

hounding you for the pictures and you deliver

them on time. It really pisses me off sometimes

but don't get me started on that.
How do u hope to be remembered?
Making a positive difference for some people from the awareness

that I have created and recorded.
Contact Info: stevesandford1@yahoo.com
Website: www.asianeye.ca
---
FINIS