RUGBY THAI STYLE
by

---
Yes, yes, you want to know - how did rugby get started in Thailand? Well, you see it happened at the beginning of the century when rich Thais started going to British public schools. They learned the game there and then brought it back to Thailand.
"Two schools in particular took the lead, Vajeeravudh and King's College," says Dominic Whiting, the captain of the British Club rugby team. "They were set up for rich Thais and modeled after British public schools, and they had large grounds with rugby pitches."
It seems funny that a sport like rugby, which is very tough and can be very vicious was a bastion for the rich occupying a status most oft-associated with games such as polo, cricket or even fox-hunting. You see, for years, the game in England, was only played in public schools (what North Americans refer to as private schools) while the rabble played football.
So until recently, rugby in Thailand was played exclusively by these two schools and Thammasat and Chulalongkorn Universities, which is where the prep-school grads ended up going for their further education.
Then in the late 70s and the early 80s the forces started to play the game. Rugby was then given a big boost by the former head of the armed forces, General Wimol Pongpanich, who saw it as a way to toughen up his troops. The game then started to get some more TV exposure, especially with the advent of the Rugby World Cup, and more universities and schools throughout the country started to play.
The game normally has fifteen men on a side, but the Bangkok squads tend to play 10 aside (10s) or seven aside (7s), and each half is seven-and-a-half minutes long, running time. In a regular game, the halves are forty minutes long. The game has recently introduced a "sin bin" whereby fighting or a particular vicious high tackle are penalized with ten penalty penalties, where the opposing side has to play a man short.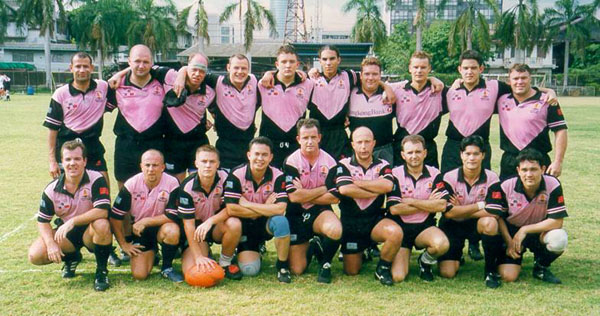 PRE GAME
Thais aren't very big, but they are very fast so they make good 7s and 10s players, but they are not as adept in games of 15 aside when teams need to rely more on their bigger forwards. Dominic also points out that the Thais are very clean players, so the games rarely get out of hand. "Rugby gets ugly because of old dodgers who can't make it anymore," says Dominic.
In a recent 7s tournament in Bangkok, the under 19s competition was won by a team from Surin when they beat the team from Vajeeravudh ("a real cat among the pigeons," says Dominic). So as you can see, rugby has really started to take off around the country.
Every Thursday the practice handling skills and has a bit of a run around at 7PM on the British Club's tennis courts. The team also has full contact practices for part of the season on the Aero Field at Chongnonsee on Thursday nites at 7:30.
"We try and attract as many young Thai players as possible, Dominic says, "Remember, once you leave university, unless you are on one of the Forces' teams, there aren't many places to play the game here, so many stop playing the game when they turn twenty-two."
The team has traveled to tourneys in the Philippines, Hong Kong, Vietnam, Laos, Singapore, Bali and even Sri Lanka, where it was a last minute substitute for the Thai national team in an international competition featuring Asia's best teams.


POST GAME
The Club has a number of generous sponsors including the Oakwood Residence and Riley's Pub. It has a sponsorship policy, which allows some of the Thais who cannot normally afford to travel, to join the team on some of these excursions. It also sponsors a girls' team in Suphanburi, whereby it buys their kit and rugby balls.
The main Thailand League has two divisions. The first includes the Royal Bangkok Sports Club (a Thai team), all the Forces' teams (Army, Air Force, Navy & Police), and two farang teams.
This year, the three farang squads - the Corsaires, the British Club and the Southerners - joined forces to form two teams in the first division of the league. This is no mean feat when you consider the British Club and Corsaires used to be bitter rivals. The two squads train together and while Dominic is the captain of the second squad, Simon Park, the Southerners' captain, skips the first side.
The second division is made up of a number of teams including a Japanese squad, the Army Cadets, and Chulalongkorn and Thammasat Universities.
The last time the British Club was champion of the Thai League was back in 1992, although it made to the finals in 1993 and 1994.
The Police tend to have the best team as they can give players jobs if they are good, and these players tend to stick around for awhile, while those on the forces' teams may not be able to hang around for very long.
The season runs from July to September to coincide with the rainy season, so that the ground will be softer. The teams play games about once every two weeks, but the British Club also plays a number of exhibition games against touring teams during the year. The games are played at Chulalongkorn University and at a number of international schools throughout Bangkok.
You don't have to be a member of the British Club to join the team. "We take anyone in," says Dominic, "especially for our touch rugby sessions, because you can play that without having played all your life. And if newcomers play touch rugby every week for about a year, they will become good players. But it's not an easy sport to pick up.
"Rugby is a great sport," he says, "because anyone can play regardless of their size and speed. So if you are tall and thin you can play on the wing, or if you are short and fat you can play in the scrum and at forward. Absolutely anyone can find a position."
The club has distinctive pink and black shirts. Jeremy Guscott, a former British national and one of England's best, recognized the shirt a few years back and approached Dominic while he was competing in Hong Kong, to ask him about a friend of his who had moved to Bangkok.
Has the British Club itself ever had famous current or ex-players? Well, Marcus Carling, the brother of Will Carling, the ex-English captain, played with the British Club back in 1992.
What's Dominic most proud of when it comes to rugby in Thailand? "We really try and promote Thai rugby, especially with players who might not be able to play otherwise. We have a good spirit going, we are not too serious and everyone gets along very well. We go on good tours. We have a lot of social events too as we will book the British Club to watch an international game or we will all go out together to celebrate some event. I think our club spirit is better than any other club's in Thailand. Having a clubhouse in the British Club also helps us tremendously."
More rugby history from rugby aficionado Michael Streeter:
"The 1895 split, when 22 rugby clubs in the north of England formed a breakaway Northern Union (now rugby league), was caused in part by intransigent attitudes of the English middle and upper classes. But it is important to note the role of the Scottish in this breakaway - the Scots loathed professionalism even more than the English ruling classes. Only in the Scottish Borders was it other than an overwhelmingly middle-class sport in Scotland.


"Rugby was also always a working class game in Cornwall (miners) Devon (farmers and fishermen) Gloucestershire (farmers and miners) - to name but a few areas. In Ireland, the game was overwhelmingly middle class apart from in Munster - the Gaelic football authorities have always regarded football, rugby and cricket as tools of British imperialism. In Wales, the game always was and still is a working class sport, though in truth it has always embraced all strata of Welsh society."

Contact Info:
Tel: (662) 655-0671
E-mail: jaydom@loxinfo.co.th
Website: www.britclub.com
---
FINIS