The Singaporean Thai Chamber of Commerce
by

---
The Singaporean-Thai Chamber of Commerce (STCC) was established as a networking platform for Singaporean and Thai businesspeople and foreigners stationed in Bangkok. Five founding members donated THB60,000 each to help officially register and launch the Chamber back on 23 October 1993.
A decade later, under the continuous leadership of founding Chairman Mr. Winston Doong, the STCC's membership has grown to 250 and it now has close to THB6 million in assets. The Chamber recently bought a new office on Ratchadapisek Road and will soon be moving into a new space in the lobby of the prestigious Lake Rachada Office Building situated across from the park adjacent to the Queen Sirikit National Convention Center.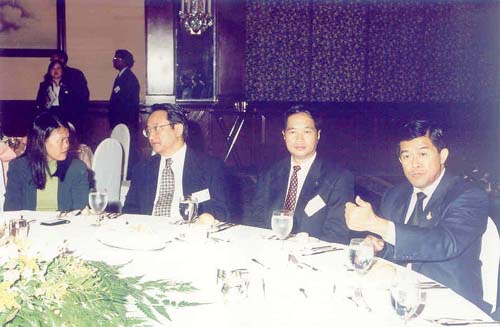 Winston Doong, 2nd from right, with Deputy Thai Prime Minister Korn Dubbaransi, far right
Networking is indeed one of the main reasons people join the STCC so let's look at a few of the events that it had organized over the years. In 1999, the Chamber put together the Global Investment Forum in Singapore, along with the Singaporean Trade Development Board of Singapore. A number of Thai listed companies such as EGAT, Eastern Star Real Estate, EMC Public Company Limited, Navas Vickers Ballas Securities, PTT and UBC took part in the event.
Then Deputy Prime Minister Korn Dabbaransi and the President of the Thai Stock Exchange at the time, Vicharat Vichit-Vadakan, led the group. They met with a number of Singaporean mutual fund advisors, investors and Singaporean government companies. Singaporean dignitaries greeted the Thai delegation, which stayed at the Shangri-la Hotel, including the Chairman of the Singaporean Stock Exchange, Mr. George Teo and Mr. Lim Swee Say, Minister of State and Industry of Singapore.
Last year the STCC organized the Export-Finance Symposium here in Bangkok whereby the STCC taught procedures on exports. Then in March of this year it will host the Singaporean Acting Minister of Information, Communications and Arts, HE David Lim, who is leading a delegation of IT professionals to Thailand to meet up with their Thai counterparts and explore investment opportunities here. Prime Minister Thaksin is scheduled to kick off the event with a keynote speech.
The Singaporean-Thai Enhanced Economic Relationship (STEER) was initiated by Singaporean PM Goh Chok Tong's visit to Thailand in Feb 2002. So far two trade missions from Singapore in the food and automotive sectors have visited their counterparts in Thailand. The STCC hosted a dinner for the professionals from the automotive delegation as well as STCC members, and the Chamber will continue to involve its members in the STEER initiative.
The Chamber is also involved in charity work and every year donates to a needy organization. In the past, it has joined together with the Hong Kong Trade Association at the Asian Charity Golf Tournament to raise money to build a library for the Baan Noone Rung School in Nakorn Ratchasima. Then last year it built a playground for the handicapped girl's school at Baan Ratchawadee in Pakkred and this year. This year, it is planning to build a basketball court for the handicapped girl's school in Saraburi.
The Chamber has 15 members who comprise its board of directors. They meet once a month and publish a newsletter every two months. And just so you don't think the STCC is all business it hosts annual celebrations on days like Chinese New Year or the anniversary of Singaporean independence, August 9th and it hosts a number of cocktail receptions and social functions throughout the year.
But what makes the STCC different? "We are a small closely knit group, so our functions are quite personal as we all know each other. We are like a clan in a way and we can recommend business contacts to each other. It is also important to note that Singapore is the third largest investor in Thailand, and we are especially strong in sectors like the automotive industry and agriculture," says STCC Chairman Winston Doong.
And why is Thailand attractive for Singaporean investors? "Thailand has a lot of potential given its resources and geographical location, being central to the Mekong region and Indochina; its people are easygoing and friendly and they welcome foreign investment. Many Singaporean tour companies are also setting up business here, as the natural landscape is so beautiful so the potential for tourism is limitless. And many Singaporean hoteliers are working here because the Thai reputation for hospitality is second to none."
Why are there so many Singaporeans running multinational firms in the region? "Multinational companies with regional headquarters in Singapore set up subsidiary companies in Thailand and send Singaporean professional managers to run these companies so there has been this network created of Singaporeans managing subsidiaries throughout Asia.
"Because of our level of English comprehension many multinational companies choose us to run their companies. We also have a reputation for running companies with transparency in a proper management style and integrity."
Winston Doong himself graduated from the University of London with an MBA and a degree in mechanical engineering. He worked for the Singaporean firm Dharmmala the first four years he was posted in Thailand from 1992-96, but then left to start his own firm called Summit Technologies, which provides cutting edge IT, energy management and energy savings as well as security control and cableless solutions. Its customers include Tesco Lotus and Robinson.
He has been the Chairman of the Chamber since its inception but he says that next year he will probably step down to give someone else a chance to inject some new ideas and blood into the Chamber. He will still remain active on the board, however, providing a bridge between past achievements and future opportunities.
Thinking of joining a Chamber of Commerce, well the STCC is a good choice if you want to network, make business contacts and find out how business is conducted in the land of smiles.
Aims of the STCC­
* To promote cooperation and consultation between Singaporeans and Thais in trade, commerce, industry and investment
* To assist Singaporean and Thai business individuals and organizations in locating and identifying potential partners in trade, industry and investment
* To provide relevant data, statistics, publications, financial and legal information to interested parties in Thailand and Singapore
* To represent the views of the Singapore business community in Thailand in the influential Joint Foreign Chambers of Commerce working group.
Membership
Various categories of membership are available. Individuals or organizations engaged in trade, industry, agriculture, finance or other economic activities domiciled in Thailand and Singapore and with links to Singapore or Thailand, and the region, are eligible for membership.
Ordinary Membership: Ordinary members are those fulfilling the above criterion. They have the power to vote at STCC meetings and will have to pay annual membership dues.
Associate Membership: Associate members, who will be mainly non-Singaporeans, will be entitled to all the benefits of ordinary members except voting rights. Associate members are also subjected to annual membership fees.
Honorary Membership: Those who contribute financially, or support the Chamber on a long-term basis, or who lend the Chamber prestige will be granted honorary membership. The STCC Board of Directors will elect them.
Contact Info
Tel: (66) 02-260-8024-41 ext. # 1113-4
Fax: (66) 02-260-8018
Website: www.singaporethaicc.or.th
E-mail: stcc@loxinfo.co.th
---
FINIS