THOUGHTS FROM THE FRENCH AMBASSADOR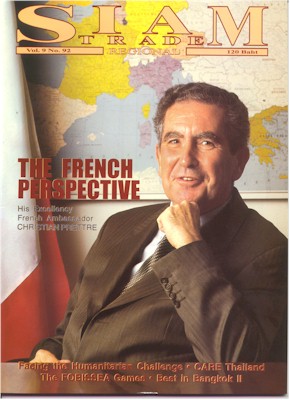 Recently Scott Murray had a chance to interview the new French Ambassador to Thailand, HE Christian Prettre. The following are excerpts from their meeting.




Please tell us a little about your background?

I studied history at the Sorbonne and then I briefly taught in a Paris high school between 1961-2. After my national service, I shifted to public administration. Upon graduating from the National School of Administration in 1967, I joined the Ministry of Foreign Affairs.

My first posting overseas was from 1970-73, in London. I then returned to Paris where I was assigned to the Interministerial Committee for European Economic Cooperation from 1973-75. I then went to work as a Press and Information Officer for the Ministry of Foreign Affairs from 1975-78.

After that, I was transferred to the Minister of Defense dealing with Veterans' Affairs where I was the Director of Pensions for France's war veterans. I stayed in that position until 1982 when I went back to the Ministry of Foreign Affairs, where I was in charge of French National Expats. Then from 1983-89, I was the Deputy Director General for Cultural, Science and Technological Co-operation.

In 1989, I received my first posting as Ambassador when I was sent to Norway. I stayed there until 1992, when I returned to Paris where I worked as the Secretary-General of the Conference for Stability in Europe for one year. Then from 1994-99, I was seconded to the French Atomic Energy Commission as head of the International Affairs Division, and, in parallel, French Governor of the International Atomic Energy Association (IAEA). My job had me frequently moving back and forth between Vienna and Paris. Then, I was eventually assigned to Bangkok last November.

What are your early impressions of this country?

I am very impressed that Thailand is showing strong trends towards political reform and democratic institutions. With a free press, you have a real political debate on many social, economic and political issues. I am also impressed by your lively national debate on social problems ranging from education to the role of women in society, and I am very interested in your reform drive for more transparency, and established rules of law in your political life, as highlighted by the recent Senate elections.


How can French firms help to turn the Thai economy around?

By investing, transferring technology, associating themselves with Thai companies, hiring Thai talent and having more and more Thai executives and specialized staff in French firms operating in this country.

France's investment in Thailand last year was FF 2 billion, making us the fifth largest foreign investor here and the second largest EU investor (only the Dutch invested more).




Can you cite a few French firms doing business here?

Citing only a few big names: I shall mention Total in the energy sector with TP; Carrefour and Casino (which purchased Big C) in the retail trade; Michelin, second in the market in the tire business; Thainox in the steel industry; Thomson and Thomson CSF is the multimedia and defense industries; Saint Gobain, the glass manufacturing business; and Alcatel, in the telecom industry.

Altogether, there are more than 350 French firms established in Thailand, a number of them belonging to small-and-medium- sized companies firms. They employ about 20,000 people and their business did not slow down during the crisis. In fact, all the major French firms that were doing business in Thailand before the crisis, stood fast during the recession - they did not leave.




Why?

Well, French industry sees Thailand as a country where it can relocate production units based elsewhere, even from France. It is also interested in Thailand as an important domestic market because it has population similar to that of France (about 60 million) although the people here have less purchasing power for the time being.

French industrialists also invest in Thailand to set-up export oriented production units. We have a huge trade deficit with Thailand as in 1999 we imported twice as much as we exported to this country. This is partly due to French firms such as Thomson setting up shop here and then exporting products back to France. As a statistic, you see this as a Thai export here in Thailand and in France as an import from Thailand, but it's all the result of the activity of a French firm. Types of goods that are being exported back to France from Thailand include housing and electrical equipment, textiles and computer components and they are all goods with added value not just raw materials.

French investors have a lot of confidence in the Thai economy; the good conditions offered by the Board of Investment are another incentive. We still think, however, that Thailand needs to produce more technical staff and managerial expertise and we are hoping to help train these people.

But, by and large, French industrialists working here are satisfied with the conditions they find, so I think there is a very good future for French investors to do business here and to increase their marketshare.

As far as our political relations are concerned, we have a good dialogue with the Thais as we worked hand-in-hand to help solve the Cambodian political crisis a couple of years ago. I would like to help promote a more active dialogue between ASEAN countries and Europe, which for the time being, faces some difficulties with respect to EU-Myanmar relations.




What about future investment?

My goal is to obviously boost French interest here and to encourage continuous French investment in Thailand. We are interested in several big infrastructure projects here, namely the Metro or MRTA, the so-called "blue line." Alstom is very interested in providing the rolling stock for this project.

We are also interested in telecommunications projects in rural areas and Air France is interested in the privatization of Thai Airways as it wants to make Bangkok its hub in South-East Asia. And Aeroport de Paris (ADP) is interested in the corporate firms that will be set-up to help facilitate the privatization of the Bangkok airports as well as the four major airports outside of Bangkok: Chiang Mai, Chiang Rai, Phuket and Haad Yai.




Are many Thais studying in France?

Right now we only have only about 400 Thai students but many Thais don't realize that the cost of higher education in France is much cheaper than in many other western countries because our university tuition is very low. So I definitely want to try and entice more Thais to study in France. We also have a number of schools and post-graduate institutions offering courses in both French and English now which should help us to attract more students.




I have heard that the Alliance Francaise cannot accommodate all of the students that want to study there?

Both the Alliance Francaise and Lycee are fine institutions but they do not enjoy satisfactory conditions. They are located in the same building as the cultural and visa divisions of the embassy, and even though the Lycee takes advantage of its excellent location, on South Sathorn, it is overcrowded. And yes, it's true the Alliance cannot accommodate all of the people that want to study there. That is why I want to help to relocate the Alliance Francaise and find new facilities for the Lycee. This, however, will take time, and money.


Christian Jallabert, the President of the Franco-Thai Chamber of Commerce has said more people are now speaking French in Thailand than in all of Indochina. What has brought about this sudden resurgence in learning French, and why is interest declining in Indochina?

Apart form the cultural appeal of our language and literature, which remains strong in some of the influential Thai circles, one reason for this is the growth of French investment here and another would be because of the growing number of French tourists.

The main incentive for studying French in the Alliance Francaise in Chiang Mai is the need for French speaking people working in the tourist industry there, and I don't mean just in the hotel sector - but tourism right across the board, including vendors manning small kiosks.

And while it's true that French studies have declined because of the political situations in Indochinese countries, I'm sure that you will see more people starting to learn French again as these societies start to open up more and more.


What are your daily duties as Ambassador?

Naturally, there is a lot of office work. The embassy employs about 140 people; so it is really like running a small firm. Besides the consular section, the Embassy has to cope with a heavy workload in Bangkok, let alone its satellites in Chiang Mai, Pattaya and Phuket.

I have to keep informed, that means I have a lot of reading to do and a lot of listening. Every morning, I read the daily papers as well as the basic menu of all French diplomats "the diplomatic telex" which is exchanged between Paris and all French embassies in the world, and this includes all telexes that deal with the Asian world and all the global problems that can be of interest and concern to both Thailand and France.

To keep properly informed I must meet many people whether they be Thais or French people living in Thailand and of course my foreign colleagues.

One of the roles of an Ambassador obviously deals with public relations so I have to be available to attend many functions and I rarely turn down any request for an appointment.

An example of this was from March 8-10 when we had a visit from the Minister of State for Foreign Trade with some thirty officials, businessmen, and journalists accompanying him. We scheduled ten appointments in two days and four official lunches and dinners and that takes a lot of preparation.

We also recently had a visit from seven French senators as part of the French-ASEAN "Friendship Group," and the French-Thai "Business Club" staged its annual meeting and a strong delegation from France was in attendance.

So as you can see, there is no lack of professional activities in my daily life...but I am fortunate to have a good team at the embassy, which helps me a lot.
---