View From Above
by

---
| | |
| --- | --- |
| | That's what Ragne Birte Lund, the Norwegian ambassador to Thailand, Burma and Cambodia definitely has. From her office on the eighteenth floor of the UBC II Building she has a commanding and lovely view of the downtown core, the Skytrain and the lovely Royal Benjasiri Park. |
Mrs. Lund has been practicing diplomacy for a quarter-of-a-century now; this being her second posting as ambassador, having been her country's top diplomat in Seoul from December of 94 to August of 97. She has been here for a year now and she is one of only three female ambassadors in Thailand (the others being __ __, the Indian Ambassador and ___ ___, the Panamanian Ambassador.)
Are there more women entering the Norwegian Foreign Service these days, and is it easy for them to advance in the Service? "Nowadays, there are actually more women than men entering our Foreign Service. More women are at the level of decision-making. But fewer women are at the top in senior level officials in both the Ministry and our missions abroad. This is partly a question of time and of political will on the part of our Government. Norway has for many years had an active recruitment policy towards women. This is probably no longer necessary, as women at the junior professional level constitute more than fifty percent of our staff. It is more crucial, however, that women gain the right experience and develop competence in order to take on leadership in the areas of foreign policy and international development.
"It is my own experience that a mix of political and economic affairs, including multilateral postings counts for a great deal. In order to facilitate service abroad the Ministry also has to pursue more family friendly policies, whether the spouse is female or male, in order to make it possible for spouses to come along. The Government has introduced special rules for leave of absence in government service for diplomat spouses. This is important.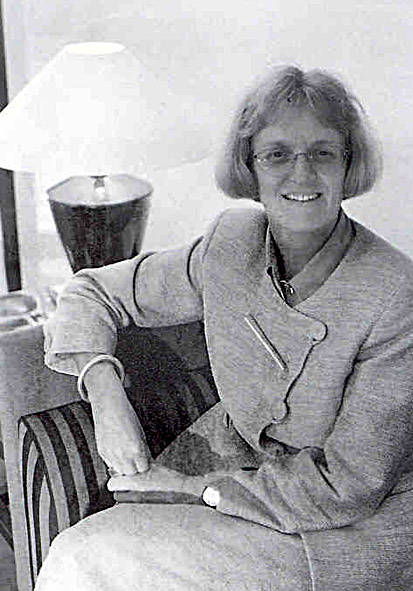 "But it's simply wrong to think that women cannot do this job as well as men can. Remember though, in Norway, you must apply for a foreign posting, it's not granted to you, and seniority isn't necessarily the key factor for selection anymore, performance is.
Do you have a work plan for the embassy? "Yes, every year a work plan with clear priorities and objectives, a strategy, is worked out by the embassy. It is not just the plan itself but also the process of making it, which is fascinating. It is a living document and serves as a tool for measuring how the embassy functions. It is my way of building teamwork. You see there really is no general prescription for our work as every duty station is different.
"Norway has an outward looking economy, which depends on exports and trade, but is also very dependent on functional multilateral frameworks. In this age of globalization and increased internationalization I believe Norway and Thailand, from our respective perspectives, have much to benefit by building partnerships. And since we don't have any major bilateral problems I have an excellent opportunity to be a facilitator and to strengthen our existing relationship."

Has the Norwegian strategy to Asia changed? "Asia is so diverse so it is hard to speak about the region as a whole. There is so much potential and resources on this continent. The countries with the highest population in the world are in Asia and the region encompasses some of the greatest cultures and civilizations. Yet the region is colored by big gaps in economic and social development. Systems of government are also very different. Dealing with Asia means dealing with so many issues. ASEAN itself is so diverse. Our overall Asia strategy takes all of this into account. China's entry into the WTO is among the major changes we see will impact the ASEAN region. ASEAN's role and the relevance of the region are areas that my embassy particularly follows as part of our Asia strategy and how we focus our priorities. Our broader strategy on Asia focuses on three pillars; politics, culture and economy. But we increasingly have country strategies."
So what are the aims of your mission? Well, although we are a bilateral posting we have to inject and incorporate the multilateral dimension, you can't split them into different compartments. As I said, we have a chance to build new partnerships and strengthen existing ones. And Thailand is well placed for this. Thailand plays in several ways a crucial role in this region and has also over the years participated more actively at the international level. Norway provided early support for the candidacy of former Deputy Prime Minister Supachai Panitchpakdi in taking over the WTO in a few months from now. Thailand's peacekeepers in East Timor are also another example of the international commitment. I hope to see this develop into many other areas. "

What's been the priority on your agenda so far in your posting? "With all the new possibilities for communication we need to form new types of alliances not only between governments but from civil society to civil society at large and between government and civil society. This can relate to a variety of economic, political or social issues emerging with globalization.
"In 1998, Norway and Canada initiated a Human Security Network, which allows Ministers and senior officials to discuss issues in an informal manner that may not be ready for formal discussions at an international forum. Thailand joined the network in 1999 and the agenda is encompassing issues relating to freedom from fear and freedom from want.
"So my embassy has started what I call network events: a series of dialogues on specific issues such as the corporate sector and social responsibility; equality status between the sexes; human rights; and the convention to ban land mines (the Norwegian NGO, Norwegian People's Aid – NPA - last May completed the first ever survey of land mines in Thailand.)
"We invite Thais from different sectors and representatives of international and regional organizations and Norwegians to speak and share concerns and identify areas for further cooperation and partnership. Issues related to HIV/AIDs will also be on our agenda. In fact, in August the Norwegian Government supported a special awareness-raising concert on HIV/AIDs in Northern Thailand. We are currently working on upcoming programs."
What's the state of trade relations between the two countries? "Our trade relations have been, of course, hampered by the economic crisis, as our relations were at a peak back in 1996; and nowadays our exports are half of what they were at that time, while Thai exports to Norway have doubled. Yet there were some interesting investments in Thailand during the time of crisis."
How can Norway help Thailand? 'Well, our attitude is not really how we can help Thailand, but how we can work with Thailand. As you know, it is a necessity for Norwegian companies to go abroad because our consumer market is so small. And these Norwegian companies can offer know-how and assist their Thai partners in developing their businesses according to their priorities. There is an element of high technology in almost every Norwegian product and services that come here.
"We have a wealth of natural resources, whether it's oil, gas, water, fish or hydropower and we have a very clean but harsh environment with a demanding, physical geography. So our industries have had to develop some very specific high-tech solutions, which represent interesting niches that can be very beneficial here.
"Quite simply, there are areas of Norwegian technology that can allow Thailand to export better. For example, our deep-freezing technology comes in very handy for exporting seafood products such as shrimp and for other food items as well. We also have the potential to be a partner in developing offshore fish farming and aquaculture which does not yet exist in Thailand: not to grow salmon, but to cultivate local species and this is based on our advanced feeding and breeding systems with care for the environment. (Remember, Thailand and Norway are the two largest exporters of seafood in the world so we have a lot of common ground in this area.)
"I would say that in many ways environmental concerns are very much part of the Norwegian brand name in Thailand. Let me also mention Environmental Monitoring and Management Systems. We have a program called Sea Watch, which is in operation on the coast of Thailand and provides high quality environmental information from buoys and sensors. There are similar systems for River Watch and they are important for forecasting, water supply, power generation, pollution control and providing flood warnings.
"Also, when it comes to paper recycling, Norway, along with Canada and the Republic of Korea, are major investors in Pan-Asia, which makes about sixty percent of the recycled newspaper in the country.
"Norwegian technology is also helping to save precious Thai teakwood, as a Norwegian company called Hjellejerde, is using the waste material from rubber trees in southern Thailand to make laminated wood for the furniture industry. I believe this industry also has a potential for greater growth.
"And one of the longest standing industries we have here is the Jotun paint company. It is at the forefront internationally with regard to technology and preserving the environment is central to its product development. Then of course, there's Norconsult, the bridge engineers who built the new Krungthep Bridge in Bangkok. And remember our largest export has always been fertilizer with our company, Hydro.
"Telenor's recent investment in Thailand (DTAC and UCOM), formalized just over a year ago, is the largest ever for a Norwegian company in Thailand. What's important about this joint venture is not just the technology it provides but the services and software that come with it. This is a new type of alliance that I believe is a trendsetter. I am hopeful that Telenor's experience in Thailand can become a real success story.
"So Norwegian companies are into areas, which affect people's lives in Thailand in different and significant ways - where Norwegian know-how, technology and services offer added value. Most Thais are probably not aware that Norwegians are affecting their daily lives with the production of paper for their newspapers (Pan Asia) and with a major share in the mobile telephone market, which now also provides access to the Internet. This can also hopefully benefit the lives of people in parts of Thailand that are less developed. If you don't have a regular phone line, the mobile net can hook you up to the Internet. This new means of communication can hopefully benefit the whole country. And I'm very proud that Norwegian expertise is playing a part in this."
"Another Norwegian telecommunication company named Nera has also played an important part in the DTAC revolution as it facilitates the infrastructure for the mobile Net with its satellite communications. So although Norway predominantly exports natural resources I believe the variety of products and services from Norway to Thailand today reflects the high technology and increasing knowledge based capacities of Norwegian companies."
(The ambassador notes that the first mobile phone was developed in Norway, but unfortunately the Norwegians didn't know how to market it so the Swedes and Finns stepped in and did that.)
But many Thais in northern Thailand are still too poor to afford the phones you speak of? "This is true, and this is not a means to redress the poverty alone - far from it. But the reality is that when these people become connected to new technology they will probably be connected to the mobile net rather than to fixed installations, and D Juice is an Internet portal you can download on your phone."
What can the Thai government to entice more Norwegian and foreign investment? "It is important that the Thai government has a consistent, predictable policy for foreigners that is conducive to establishing long-term business. Norwegian companies continued to invest in Thailand even during the financial crisis, now the Thai Norwegian Chamber of Commerce is closely following the ongoing revisions concerning the Foreign Business Act. We also look to Thailand 's continued honoring of commitments under the WTO, including custom rates, and liberalization.
"It's easier for foreigners to invest if the investment falls under the mandate of the BoI, where a foreigner can have100% ownership, but in many sectors, especially when it comes to services, foreigners can only own 49% or less of a business.
"The shift in direct foreign investment from the ASEAN region to China means that Thailand will face stiffer competition especially with China's upcoming entry into the WTO. Also, some of Thailand's neighbors may take some business away by having more progressive foreign investment laws. I am, however, hopeful that Thailand will pursue a policy that will address the concerns of the International Chamber of Commerce."
What role can women diplomats play in helping to resolve this global conflict of terrorism prevention? "Well, this is a big change of subject, but the terrorist attack was also intended to have economic ramifications. What we need now is an effective global coalition to combat terrorism. Women in general and women diplomats can be advocates of this process.
"In a crisis, related to war and conflict in the traditional sense, the international community mostly tends to look at women from the perspective of being victimized. But this is only one part of the coin. Women may as well represent a positive force and be connectors for change and build the ground for peace and reconciliation across political differences. Women in difficult situations do tend to look for other types of approaches and solutions."
And what about the UN's role in solving this global conflict? "The events on 11 September were an attack on the freedom of movement and the rule of law, so it is imperative that we strengthen the co-operation among nations as much as possible to help and resolve this issue.
"The UN Security Council, which Norway is a member of, has adopted crucial resolutions. The Secretary General of the UN in his opening address to the special session of the General Assembly on terrorism called for the UN to be the at the heart of the initiatives to combat terrorism. He mentioned several concrete steps states could undertake. Indeed, the recent terrorist attacks on the U.S. show just how relevant the UN is. But it is never more than what the member states want."
Parting thoughts? "I really look forward to moving on in my tenure in this region. There are so many interesting fields and scope of work. I have made acquaintance with persons with special insight and knowledge in all the areas that I have mentioned. This is indeed very inspiring and promising for my Embassy in further strengthening partnerships and networking between Thailand and Norway."
Contact Info
Tel: (662) 261-0230-5
Fax: (662) 262-0218
E-mail: emb.bangkok@mfa.no
Website: www.emb-bangkok.or.th
---
FINIS