Scott Murray recently had a chance to sit down with American Ambassador to Thailand, William H. Itoh, at the American embassy on Wireless Road to discuss many issues including the Thai economy, and how America is prepared to help Thailand through this crisis. Itoh, who is entering his third year as chief of mission here, was graceful and forthcoming in his answers as he held court in the second biggest embassy in the world.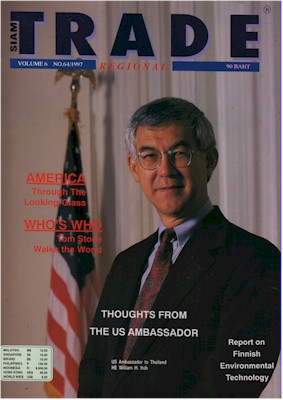 INTERVIEW WITH AMERICAN AMBASSADOR ITOH
Q. - How did you get involved in diplomatic life?
A. - I think it's largely because of my international background. My father and mother met at the London School of Economics, and he became a professor of economics in Japan. As a child I lived in Japan and Canada before settling down in the state of New Mexico, and my family always had interests in the broader world.
After I left the Air Force, I was trained as an academic and I taught Asian and European history briefly at Humboldt State in Northern California.
But I decided that at one point I would take the foreign service exam and my wife agreed we would try it for a couple of years. That was twenty-three years ago, so I guess I have made it a career.
I started off my career in Washington D.C., which was unusual because most foreign service officers go overseas on their first tour. This was particularly useful for me because I had not actually visited Washington before.
It was a good opportunity for me to understand how the bureaucracy worked, and how the State Department related to other government agencies. As I spent a good deal of my subsequent career in Washington, that introduction was very helpful for me.
I was first assigned to the Office of Congressional Relations, so very early on I developed an interest in relations with the Congress and its role in American foreign policy. I continue to believe that the conduct of American foreign policy should be a bipartisan effort.
Q. - Who are some of your role models and some of the people that influenced you in your career.
A. - Well, my first boss was Robert J. McCloskey. He had been Ambassador to Cyprus when I worked for him. He was also a close advisor to Henry Kissinger, who was Secretary of State at that time. He later went on to be Ambassador to the Netherlands, and Greece.
When I was posted in London, I worked for Kingman Brewster, who was a former president of Yale University before he was appointed to the Court of St. James. I also worked briefly for Ambassador Ann Armstrong before she returned to the United States.
At that time, I was struck by the contrast in their styles.
Brewster was much more interested in the substance of diplomacy. He was the one who wanted to carry the demarches himself to the Foreign Office. Ann Armstromg was much more interested in public diplomacy, and outreach into the broader community.
I finally concluded, having worked closely with both of them, that there is no set formula for success as an ambassador. People have to determine their own style, and to a certain extent their own agenda.
In subsequent years, I was influenced by Larry Eagleburger, who was my boss when he was the undersecretary for political affairs. I later worked indirectly for him when he was Deputy Secretary of State, and Secretary of State at the end of the Bush administration.
All of these people had rather different contrasting styles
but they influenced me in one way or another.
Q. - What about other experiences prepared you for your role as ambassador?
A. - First, I served as consul-general in Perth, Australia from 1986-90. It was like running a small embassy. We had six Americans and thirteen Australians working for us. Perth is as far from Washington as one can get in the foreign service, and was a continent away from our embassy in Canberra. We had a great deal of independence and it was up to me to determine how I wanted to spend my time. During that period, especially after the Americas Cup, I found I did a great deal of work with my commercial officer promoting American business interests in Western Australia. I found I enjoyed it, and I thought it was very productive.
The recent experience which prepared me for my role here was the four years I worked in the inter-agency process back in Washington. For two years, I was the Deputy Executive Secretary in the State Department which included a fairly long stint as the active Executive Secretary. That position is responsible for coordinating paper flow for the State Department and particularly the Department's participation in inter-agency meetings with other agencies that are involved in foreign policy. I went on to that same job in the White House as the Executive Secretary of the National Security Council, again having to deal with all sorts of different agencies that play a role in formulating foreign policy.
Both of these experiences were very useful preparation for my role here in Bangkok. This is the second largest embassy in the world, and it is essentially a microcosm of Washington. We have over thirty US government offices and agencies represented here. Part of my job is to help coordinate their work and to make sure that all these agencies represent the best interests of the American government.
I don't know how many people consciously set out to be an ambassador. I hadn't thought a lot about it because I was quite satisfied, step to step, with where my career was going. But I must say, it's a very challenging and rewarding experience. What I particularly enjoy is the variety of the work. That plus living in Thailand, and the cultural and historical context that it offers, along with the general friendliness of the people and their receptivity to outsiders, make this an exceptional assignment.
Q - Being the American Ambassador you are constantly in the spotlight. This must be very stressful at times. How do you get away from it all?
A - I devise ways to maintain my privacy by retreating to the confines of the residence. I have always maintained that it is useful to pursue one's own personal interests. My reading, collecting activities, trips to museums, and cultural activities provide a good balance to my professional life.
Q - What is your take on the Thai economic crisis?
A - I think it is fair to say that no one fully appreciated the depth and magnitude of the crisis Thailand was facing toward the end of 1996 and in early 1997. As the year progressed the government took steps to try and deal with the economic crisis. First was the suspension of the fifty-eight finance companies, then the floating of the baht on July 2, and finally the IMF rescue package of US$17.2 billion.
Everyone assumed recovery would soon follow, but there were some fairly serious political distractions. One of course was the fate of the new constitution which was resolved with a successful vote on 27 Sept 97. The other had to do with the question of political leadership which was eventually resolved by the new government coming into place.
The new government has been impressive not only in its composition which includes a number of ministers with good skills and the ability to communicate their positions to the people of Thailand as well as to the international community. It has also moved out forcibly in addressing the economic challenges it faces including what's to happen to the suspended finance companies.
It was unfortunate that Thailand was poised to start the process of recovery at precisely the time that other major economies, like South Korea and Indonesia, took such a sudden turn for the worse. I call this process "reverse contagion." Thailand, being the first to come down with the disease, is now taking the long and difficult steps to position itself for recovery and is having to distinguish what it is doing from the problems facing the rest of the region. But we are quite encouraged by the steps taken by this government, and we have been quite supportive of the process.
Q. - Many people have expressed concern about whether America has done enough to help Thailand get through this crisis. Is this fair?
A. - People don't fully appreciate the fact that the United States was quite instrumental in the IMF's role in putting together the rescue package so quickly. Our initiative at the Halifax G-7 meeting really paved the way for the speedy implementation of the package based on our experience in Mexico. We are the largest financial contributor to both the IMF (18%) and the World Bank (25%).
While it's true we didn't make a direct bilateral contribution to Thailand, I don't think it was necessary and it wasn't requested at the time by the Thai government. None of this should have been interpreted as a lack of interest, or a lack of support for the process, because the reality is we were fully engaged right from the beginning. Remember as well that a number of countries in the region came forward very quickly to help support Thailand.
The US has constantly found ways to help support the development of the Thai economy over many many years. While the preoccupation right now is with the negative news, the reality is that over the last twenty years or so Thailand has grow at a spectacular rate and the US, both in the government and private sectors, has played an important role in that process.
On the government side, for forty-five years we have had a very large development assistance program here in Thailand. This included major infrastructure programs such as highways and dams and a very important human resource component which trained tens of thousands of Thais including twenty thousand in the USA at universities and colleges. This has made a direct contribution to the eventual economic development of Thailand which was so spectacularly visible in the 1980s and the early 1990s.
Another point that should be made about our contribution to the growth of the Thai economy is the access we have provided to our markets. While Thailand has been carrying a significant deficit with some of its trading partners it has been carrying a significant trade surplus with the US. We estimate that this year our trade deficit with Thailand will exceed $US5 billion. Last year, it was US$4.1 billion, and two years ago it was US$4.9 billion.
The openness of our market to Thai exporters has been, and will continue to be, a major element of support for the Thai economy, and for the recovery of the Thai economy in this period of difficulty.
With the recent visits of high ranking officials we are visibly offering strong support to the recovery program undertaken by this government. We recently received visits from Deputy Secretary of the Treasury Larry Summers, Assistant Secretary of State Stanley Roth, the Chairman of the Senate Finance Committee William Roth, Defense Secretary Bill Cohen, and Senator John Kerry of Massachusetts - all within a six day period. All of them had a number of important discussions with Thai officials. They will take back to the US a very positive impression of how this country is moving to try and address the difficult challenges of the economic situation.
Likewise, I think Finance Minister Tarrin Nimmanahaehinda's treatment in Washington was extraordinary. He was welcomed in the Oval Office for a meeting with the President and the Vice-President. He was then welcomed to a long meeting with the Secretary of the Treasury, Robert Rubin, including follow-up meetings with his staff, and he was also involved in a meeting with Secretary of State Madeline Albright. In addition to his discussions with the IMF, his trip to Washington was really an unqualified success in the sense that he was able to demonstrate to everyone that his government is committed to real reform under the IMF guidelines.
So while there is some lingering concern about American support I would think that recent events would clearly demonstrate our strong and unequivocal support for this government's efforts. Having said that, however, I would emphasize that Thailand's recovery will depend largely on the reaction of the private sector and private sector investors. We are hopeful that the confidence level of these investors will rise again and they will return and participate widely in the Thai economy.
Q - Would you please elaborate on the recently announced Kissinger-Anand initiative?
A - Dr Kissinger and Khun Anand are going to co-sponsor a private sector initiative to raise funds from American corporations. These funds will then be administered by the Kenan Institute of Asia for training programs and other projects to assist in the adjustments that have been made necessary by changes in the Thai economy. I think this initiative is an important demonstration that the American private sector is standing by in support of the Thai economy.
The Kenan Institute of Asia is an institution that is headed by Khun Anand Panyarachun here in Thailand. It is an interesting partnership between the government and the private sector. It has been funded by the US government through USAID, through the Thai government by the Department of Technical and Economic Cooperation, and through the Kenan Institute by the Kenan Charitable Trust at the University of North Carolina at Chapel Hill.
Its purpose is to continue some of the development projects first introduced by USAID over the forty-five year USAID presence here. They have been working on environmental and health issues, attracting private sector expertise to help address some of the challenges here in Thailand.
So the Kenan Institute in many ways is extremely well positioned to undertake the programs that would be envisioned by this new private sector fund launched by Khun Anand and Dr Kissinger.
Q. - What do you think will be the importance of PM Chuan's upcoming visit to Washington?
A. - First, it is an extraordinary sign of President Clinton's personal interest and commitment to Thailand that this invitation was forthcoming at such an early date. The President and PM Chuan first met at the APEC meeting in Seattle in 1993. They met again most recently in Vancouver at the APEC meeting when PM Chuan reiterated Thailand's strong commitment to economic reform, and the President reiterated our strong support for an old friend and ally.
PM Chuan's meeting in Washington along with the round of visits we had here in Thailand and the Finance Minister's trip to Washington, will be an important opportunity to really underscore the broad relationship between the two countries.
While much of the discussion will be on economic issues the meeting also provides a good opportunity to address a range of issues of mutual interest where we have co-operated in the past and will continue to do so in the future.
Q. - What can the US-ASEAN Council and the US-Thai Business Council do to help Thailand during this crisis?
A. - Both these organizations represent the best of the US private sector and their interests in South-East Asia. The US-ASEAN Business Council has traditionally sponsored a trip taken by all of the US ASEAN ambassadors back to the United States. I have been privileged to be on this trip the previous two years, and I look forward to being with this group again in late May and early June of this year.
This is a wonderful chance to be able to talk about the opportunities for trade and investment in Thailand to diverse business audiences all across the country. This year we will be talking to audiences in Phoenix, Arizona; Kansas City, Missouri; Greenville, South Carolina; and Washington D.C. We have also added a stop in New York City to talk to the business and financial community there in view of their interest in the economic problems being faced in this part of the world.
The US-Thailand Business Council has also had a strong record of being active in supporting trade and investment in Thailand. The mission that was recently here was designed to once again reinforce the strong message of support from the US private sector for what this government is attempting to accomplish and also to indicate that the American private sector - and this can certainly be said of all American companies operating here - has a great deal of faith in Thailand's future.
In Thailand, we have US$16 billion of cumulative investment represented by a variety of American companies. We have a very strong bi-lateral trade realationship, more than US$18.5 billion. As I mentioned earlier, we've carried a very large trade deficit with Thailand for years in the past which has been the tool for the expansion of the Thai economy. We feel that Thailand has been a good place to trade and invest and American companies are certainly poised for the long term and once this period of economic difficulty is behind Thailand there is no question that American companies will continue to be active here.
Indeed, I'm encouraged that major investors like Ford and GM have reiterated their commitment to continue on schedule. In May of this year Ford will be rolling out pick-up trucks from their Rayong plant and GM will continue with plans to produce automobiles in this country.
We've also seen some encouraging signs of new investment. Esso has announced plans for a US$400 million investment in an aromatics plant. That is a major investment for Thailand coming at this critical period of time. The Troy Corporation has also announced, in conjunction with its Thai joint-venture partner, a new chemical venture in Thailand.
I think that over time you will continue to see additional American investment here because the American business community has a great deal of faith and confidence in the long term future of the Thai economy.
Q.- Any advice for someone traveling to Thailand?
A. - There is a great sense of unity in the nation but there are many Thailands here. I think it's important for visitors, and myself, to see as much of the country as we can, to experience the distinctiveness of the regions, and I will continue to try and do so. During my assignment here, I have been fascinated by the history, the culture, and the art of Thailand.
Q.- Would you please comment on the Peace Corps presence here?
A.- We have had a very active Peace Corps presence in Thailand for many years, and that presence continues. A brand new class just arrived. These volunteers serve in some of the most remote areas in the North and North-East and work primarily in the schools, assisting in teaching English, and in health and environmental education. They really have a remarkable impact on their local communities.
I just had a visit from my colleague Darryl Johnson, who is the head of the American Institute in Taiwan, which is our unofficial presence there. While here, he visited places that he had seen when he was a Peace Corps volunteer thirty-five years ago. It was remarkable for him to meet some of his classmates who had stayed in Thailand and at the same time to meet some of the host families and the people he worked with in the Lamphun district not far from Chiang Mai.
I think the Peace Corps is one of the best instruments of American diplomacy, because of its people-to-people diplomacy. Many of the volunteers are young, but in actual fact we have people from all ages and all backgrounds who represent the United States in these small communities throughout Thailand. If we look for successful personal diplomacy repeated on a daily basis we should look to the experience of these Peace Corps volunteers.
Q. - What other initiatives are you looking at to help Thailand throughout this troubled period?
A. - We are looking at a variety of ways to assist Thailand. For example, we recently had a high-level delegation from the Pentagon to discuss with the Thai military some creative solutions to ease the burdens of a number of defense procurement obligations. This was an immediate follow-up to the discussions between PM Chuan and US Defense Secretary Cohen. We are optimistic we can find some solutions to help Thailand.
Recently, I joined the Thai Minister of Agriculture in announcing a US$300 million program of export credit guarantees for American agricultural products to be sold in Thailand. This should be a helpful program because it would allow Thai importers to purchase these commodoties on credit at US interest rates.
Three specific examples come to mind. One, credits could be used to buy US cotton for the textiles industry for export. Two, credits could be used to purchase hides and skins in the US for the leather industry, also for export. Three, credits could be used for the purchase of soybean meal in the US for the poultry industry, again for export. This program has existed in the past, but this year we think it shows real promise for Thai producers because of the very high interest rates here.
Another area we are looking at this point is to try and provide some relief for Thai students studying in the US. Already, on a case-by-case basis, some universities have extended low interest US dollar denominated loans to Thai students to help them stay in school. One recent example is the University of North Carolina which is co-signing loans that will allow Thai students to continue their studies at that institution.
I think it is important to underscore that in a whole variety of ways the US honors and respects its long standing connections with Thailand. We will continue to look for ways we can help in these difficult economic circumstances.
Q.- Any parting comments?
A.- I would just like to add that we are quite confident that Thailand, in fact, has a very bright future. First of all, the pre-conditions being imposed externally by the IMF are designed to improve transparency and accountabilty in economic policy making. I think that in the future the management of Thailand's economy will be vastly improved by some of the reforms being undertaken in response to these corrections.
Second, under the new constitition adopted in September there will be a greater degree of accountability in political life. Taken together, both the changes in the economic management, and in the political life of the country, should mean that in the future Thailand will be even stronger than before.