THE FINNISH AMBASSADOR
---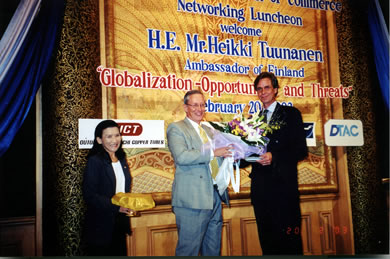 Recently Scott Murray had the chance to talk with His Excellency Heikki Tuunanen, the Finnish Ambassador to Thailand. The following are excerpts from their interview.
Please tell us a little about your background.
"I was born and raised in Helsinki, and studied at Helsinki University. I'm a lawyer by profession having specialized in international business law. I entered the Foreign Ministry in 1975. In terms of this posting, I arrived in Bangkok in September of 2000. Before that, I worked in Helsinki for nine years partly because of my wife's career as an architect, partly because I liked the positions I held and partly because we wanted our four children to be educated there.
"From 1998 – 2000, I was in charge of the Middle East, the Gulf and Africa for the Ministry for Foreign Affairs. Before that, from 1997-98, I was Deputy Director General in charge of Bilateral Co-operation for the Department for International Development Co-operation for the Ministry for Foreign Affairs. And from 1991-97, I was Director of the Bureau for Sectoral Policies for the Department of International Development Co-operation again for the Ministry for Foreign Affairs
"My last foreign posting was as the Finnish Charge d'Affaires in Zimbabwe from 1987-91, which at that time was a great posting in terms of positive developments in that country and the region as a whole e.g. the ending of apartheid in South Africa. From 1984-87, I was a Counselor and the head of a unit with the Department for International Development Co-operation in Helsinki. My first foreign posting came in Kenya as First Secretary for the Finnish Embassy in Nairobi from 1980-84. And I started my diplomatic career in Helsinki as the Second Secretary Department for International Development Co-operation from 1975-80. My focus in diplomacy has always been on North-South issues and the developing world."
How did you get into diplomacy and how has the world changed since you entered the Foreign Service?
"When I graduated almost thirty years ago, I was looking to work abroad and joining the Foreign Ministry was one of the best ways of doing that. But now the situation has completely changed and only a small minority of Finns that work abroad are in the Foreign Service, the rest are all with multinational companies or international organizations.
"An example of how times have changed is when I was a law student I didn't study abroad, nor did hardly any of my classmates. But when I asked my daughter, who is studying law in Helsinki University and is now in Paris through a university exchange program, if many of the students from her law faculty were studying abroad, she said she didn't know anyone who wasn't. So now it has become routine to study abroad. And this is same with looking for a job; life is becoming more international, and being posted to other countries is not a big deal anymore. And joining the European Union in 1995 has even further increased Finnish presence and contact in Europe."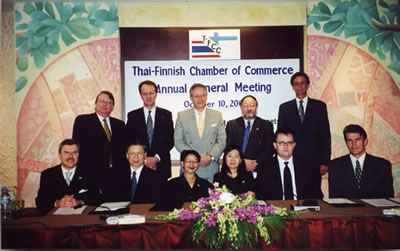 Please tell us a little about the history of diplomatic relations between Thailand and Finland.
"We established relations a long time ago but our embassy was upgraded to the resident ambassador level in 1986. This was due to the rapid economic growth in Southeast Asia and Thailand becoming a regional hub for Finnish industry."
How important is foreign trade to Finland?
"Our economy may be more dependent on foreign trade than any other OECD country. We are highly dependent on certain imports and exports; so Finnish business has always been closely linked to different countries in Europe and gradually countries all over the world. And globalization has had a major impact in Finland as 40% of our GDP comes from exports, so we simply have to be internationally competitive to remain competitive. Our companies have had to expand and improve in order to remain and become global players."
Are there any particular Finnish companies operating here that you would like to mention?
"Of course, Nokia, which is the flagship of Finnish information and communication technology is very big and active here and the Metso Corporation (formerly Valmet), a world leader in pulp and paper technology, has a big service center in Laem Chabang which services pulp and paper machinery and equipment throughout Asia. Outokumpu produces copper tubing in a joint venture with Hitachi, Fortum has a power plant in Laam Chabang, then there is the WIIK & HÖGLUNG pipe factory, these are just a few examples of Finnish industry here.
Please comment on Thailand's investment environment.
"Thailand has a fairly good investment environment. It has good economic and political stability as well as a good infrastructure. It has many assets including an abundance of relatively cheap labor and experience in traditional industries like automobiles and electronics. Its geographical position is good, being in the middle of ASEAN and so close to China, even India. Its role as a regional transportation center also makes it very attractive.
"But as a result of globalization the whole world is becoming one single open transparent marketplace. So investors will go where they find the best investment climate. They want to have economic and political stability and the rule of law to protect their investments and they want a transparent and open society. It's actually astonishing to see in what a simple way international business works: it goes where it finds the best place to work.
"And although Thailand has many advantages, as I mentioned, and it has been improving its business environment, it seems as though the Thais are not yet willing to create a completely open and transparent marketplace where international capital and investors can function more freely. They should have fewer restrictions; less investment permits and they should hasten and streamline the processing of foreign nationals coming here to work with their companies.
"This is especially important considering the competition in this region. It's no secret that there is a lot of interest in China from the foreign business community, part of which will happen at the expense of ASEAN countries. And many countries and companies can't afford to operate in too many countries, so they will be choosy as to where they will go. So there should be less red tape, less licensing, less regulation and less interference, and this would undoubtedly bring in much more investment."
Please comment on the pending conflict between the U.S. and Iraq.
"Finland's position is very clear: we stress the importance of a peaceful solution to the problem in Iraq. When it's a question between war and peace, we always take the side of peace. We fully understand the threat Iraq poses to the international community and we agree on the seriousness of the problem but we emphasis the need for a peaceful solution and we hope that Iraq will comply with the UN resolutions on the weapons inspections. We may unfortunately run out of time, but if that happens, and there is a war it should come through a full mandate from the UN Security Council."
What do you think of the Thai government's war on drugs?
"The drug problem is a serious social problem in Thailand. It's very difficult to combat, however, when you obviously can have no, or little, impact on the supply side of the problem, which in this case is Myanmar. So the Thai government has no other option than to try and eliminate the local distribution network. Of course, many people have been killed during this campaign and not enough information has been provided as to why, or how, they have been killed. So although it's very important to eliminate the drug problem it's also important to maintain the rule of law and uphold the country's traditionally good record of respecting human rights."
How can Finnish know-how most help Thailand now?
"If you look at the findings from the last World Economic Forum in Davos, Switzerland, as well as many other international reports you will see that Finland is ranked as the number one AS A knowledge based society in the world. This takes into accounts things like communication and information technology, high-tech equipment, information and technology as a share of GDP, education etc. So as Thailand wants to be a regional hub in Asia, the government is stressing the importance of communication and information technology as well as having a knowledge-based society and this is obviously an area where we can and we will work together. Just recently, the Deputy Thai Prime Minister Suwit Khunkitti went on a mission to Finland to identify new areas of co-operation. Remember it's not just about machinery and equipment it's about software and applications, training people and how society can best take advantage of the innovations in IT. Then, of course, both Thais and Finns working in traditional co-operation sectors are identifying new initiatives where we can co-operate."
Please tell us about Finnish tourism to Thailand and vice versa.
"We only have 5 million people, yet we had 70,000 tourists to Thailand, that's quite a high proportion of Finnish visitors. So Thailand is the major 'far away' destination for Finns. Of course, there are more Finns spending holidays in Spain, Greece and Turkey but Thailand is their biggest destination outside of Europe. Thailand is very cost effective for tourists; nowhere in the world can you get so much for so little money. You get good yet inexpensive service and it's a very beautiful country with good beaches and a fascinating history and culture, something for everyone. And of course the people are very friendly, liberal and tolerant and on top of all that Thailand is in any international comparison a very safe country.
"Finnair flies from Helsinki to Bangkok return seven days a week. And something, most people don't realize is that if you are leaving from Bangkok, traveling via Helsinki is actually the quickest way to get to western Europe. And there are connecting flights from Helsinki every morning to practically every European capital. So this is very convenient for a Thai doing business in Europe. Thai tourism to Finland in increasing and Thais tend to go on group tours and visit Lapland where they go skidooing or on reindeer safaris. We are lucky in that we are blessed with a beautiful natural environment, we have little pollution and we are a safe society."
Anything else you'd like to add?
"Perhaps a note on democracy and especially on the importance of it, for it is not only power by the majority but also provides for the protection of minorities. Finland is a bilingual country and I don't think most people realize that. We have a minority of Swedish speaking people making up about six percent of our population and as a result Swedish is also an official language of ours. In many countries majority/minority issues, be it linguistic, ethnic or religious can cause a lot of tensions and problems, but we have always been able to maintain social cohesion and stability."
---
FINIS